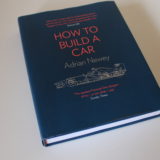 New Book Review: How to Build a Car by Adrian Newey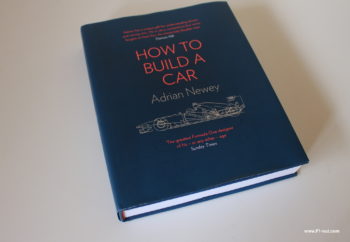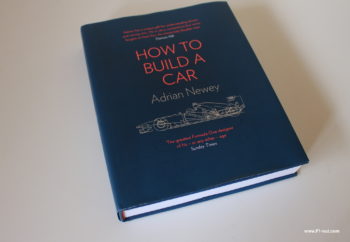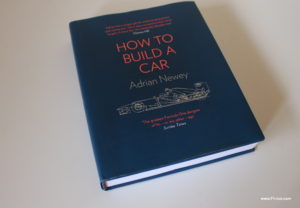 :
:
:
:
:
:
:
:
Author
:
Adrian Newey
Publisher
:
Harper Collins
Positives
Technical insights into the iconic Newey F1 cars; Behind the scenes of Williams, McLaren and Red Bull engineering departments.
Negatives
Nothing major. No colour photos and not much storytelling on the 2015-2016 seasons.
Posted January 29, 2018 by
f1nut
It's testament to Adrian Newey's stature in F1 that as an engineer he is also treated like a rockstar by F1 fans. Despite the fact that the current hybrid turbo era has put more emphasis on raw engine power over aerodynamics, Newey designed cars have a habit of pushing aero design boundaries and produce race winning cars. When I first caught wind of the title of Adrian's new book "How to Build a Car", I wasn't sure if it would be a purist engineer's book or a driver's style autobiography full of personal bombshells. In truth, its probably a bit of both.
Newey's career has spanned more than 3 decades in Formula 1, so whether you're a F1 fan of the Leyton House team in the late 80's, the Williams or McLaren dominant eras of the 90's and 2000's or the Red Bull Vettel success streak from 2009-2013, you will find many insights in this book to pique your specific interest.
This hardcover book is made up of 77 short chapters but in reality is structured into 11 main sections covering the major race cars that have defined Newey's career timeline: March 83G and 86C Indycar, Leyton House 881, Williams FW14, FW16, FW18, McLaren MP4/13, MP4/20 and Red Bull RB5, RB6 and RB8.
Most F1 fans would assume that being an engineer Adrian would have had a stellar academic upbringing, so the early chapters where he traces his early youth, schooling difficulties and passion for motorbikes are eye openers. Adrian has even bothered to include photocopies of his old school reports as evidence.
The chapters on his early engineer career with a false start at Fittipaldi and moving to the US to gathering Indycar experience via designing the March chassis and with Newman/Haas in the early days are an entertaining read.
Fans of the 80's minnow teams like Leyton House (the rebranded March team) will find Chapter 22-30 very insightful into the development of the Leyton House 881 (which would heavily carryover into the Williams FW14). I haven't seen many other F1 books cover this topic.
Chapters 42 – 47 are important chapters for Senna fans. You can read journalist compiled articles and books on Senna's 1994 accident including Richard Williams "The Death of Senna" but to read it from one of the key central figures is completely different and compelling. Newey is obviously very reflective and honest about his sense of responsibility as the Williams design engineer at the time.
Although published late last year in 2017, the 2013-2016 season (the hybrid engine era) is given short thrift of only a few short chapters at the end of the book. Modern fans might be disappointed not read about Adrian's views on the RB10 or on Daniel Ricciardo or Max Verstappen. Having said that, you'll find there's more mention of  Christian Horner in the book than any deep analysis of any of the Red Bull drivers current or past.
Throughout the book, Newey provides a lot of the back history of F1 for the newbie e.g. Bernie, Max Mosley, FOCA, etc. but interestingly assumes the reader has some appreciation of F1 technical parts and the regulations. Added to that is a fair amount of personal humour injected with regular behind the scenes stories. Adrian also offers some honest self-analysis of his personal life and delves into memories of his family, his children and effect of his job on his past marriages as his career his flourished.
Photography-wise there aren't many photos, although Newey has included some early personal snaps. All the photos are B&W which is a minor disappointment. It would have been fantastic if the book could have included photography similar to the excellent "The Art of the Formula 1 Race Car" considering so many Newey cars are also featured in that book. However, for the engineering enthusiasts there are plentiful technical diagrams (which look very much like Adrian's own hand drawings) sprinkled throughout each of the chapters which attempt to highlight specific technical challenges Newey recalls with each of his race cars. So while the photos are few, there are lots of chassis drawings.
For those F1 fans who wonder what Adrian Newey will be doing post-F1 – will see various hints dropped by Adrian throughout the book – you'll have to read it to find out.
At 390 pages long, this book will take a few reading sessions to get through, however if you're a knowledgeable F1 fan, it's certainly worth the effort.
Acknowledgement: Review copy provided by Harper Collins Publishers
Wow Factor/Money shot: Chapter 2 (solving the KERS placement conundrum in the RB7); Chapter 35 (FW14 active suspension)
Suitable for: Engineering, Williams, McLaren & Red Bull fans