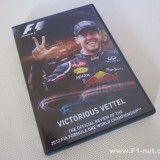 DVD Review: Victorious Vettel – Official Review of 2012 FIA Formula One World Championship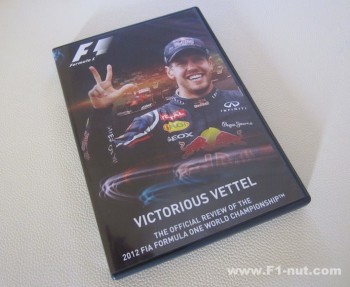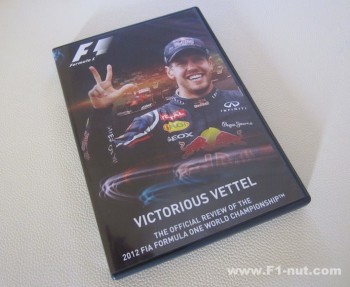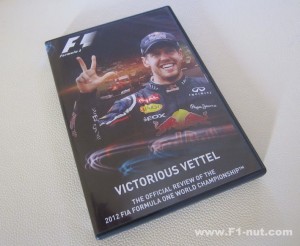 :
:
:
:
DVD Subject
:
Sebastian Vettel
Positives
Over 5 hours of viewing
Negatives
No Friday practice or Saturday qualifying footage so the real context of the Sunday race is often lost
Posted February 23, 2013 by
f1nut
Out of habit, at the start of every year I pickup a copy of the official FIA season review DVD. Over the last few year years, the review DVD has improved considerably with much more special content and extended race footage. The 2012 review DVD has over 5 hrs of viewing, although I feel a lot of this is just repeated on board camera footage from different cars during the race.
There are few noticable differences with this year's DVD review:
the biggest negative is the complete lack of practice and qualifying footage. There were some dramatic incidents last year during practice and qualifying sessions – Schumi's pole lap in Monaco, Maldonado swiping Perez in Monaco, Force India in Bahrain, Vettel's penalty for qualifying in Abu Dhabi, Ferrari qualifying strategy for the US GP, qualifying for the final world championship deciding race in Brazil, etc just to name a few…
subtitles for radio conversations between the driver and the pit crew. This is actually a good feature and its much easier to understand the radio dialog. So you can re-live Schumi ranting after hitting the back of Bruno Senna in Barcelona, Vettel's wining to his team over his DRS/yellow flag penalty in the same race, Vettel wining again in Abu Dhabi behind the Toro Rosso, and of course Kimi's legendary comments during his Abu Dhabi race.
Extra features included are a tribute to Michael's 2nd retirement, a Lotus F1 team profile, Winter testing wrap, Insight into team radio communications (easily the best of the extra features with interviews with Lotus-Kimi, Ferrari-Fernando, McLaren-Jenson and their respective race engineers), F1 in slow motion reels and Bruno Senna interview reflecting on his famous uncle and Monaco.
There is plenty of onboard camera film – unsurprisingly, Pastor Maldonado and Romain Grosjean first lap incidents (Monaco, Spa, Suzuka…) feature heavily. Also, you can sit with Sebastian Vettel on his disastrous first first lap in the Brazilian GP.
Overall, even with the appeal of 5hrs+ viewing time, the 2012 Review DVD lacks the completeness and off-track stories that made some of the previous year's review DVDs enjoyable. Most fans will probably automatically pick up a copy of this DVD to add to their annual collection but newbies should keep in mind the deficiencies with this 2012 review.
Did you enjoy this review? You can add your own star rating of the book or DVD in the User Rating box above. Or you can add your thoughts or comments below for other readers. Make sure to also check out other similar reviews in the Related Reviews box below!