F1-nut.com turns one!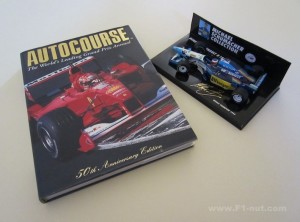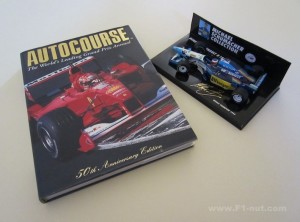 This week marks one year of F1-nut.com! I can't believe in the last year I've managed to pump out 75 F1 book reviews (only 150+ more to go…), a dozen diecast reviews and a few DVD reviews too. My goal was to learn about blogging starting from scratch and apart from the late nights in front of the computer, frustrations with camera shots, it's been an absolute blast.
For some funny reason I get lots of emails rather than post comments (confirming that we collectors are a very private bunch) and I'm told the social media buttons also don't work properly. I know the site theme is a little slower than most due to all the bits and pieces on the home page – so please bear with it until I figure out how to improve things.
Thanks to all readers who sent through their words of encouragement and support. Also to US supporters of the site, happy 4th July celebrations! Its been great hearing from F1 book and model car collectors from all over the world.
I should have some more interesting books, diecasts and other collectibles to post for review during the year – so make sure to come back and visit the site again!
P.S. There was supposed to be a cupcake with birthday candle in the photo with the Autocourse 50 year birthday issue and the Schumacher Benetton B195 but it disappeared before the photo shoot….