Diecasts: looking back at 2017


I frequently get asked about values of 1:43 scale diecast collections (quite often via inheritance) and my usual reply in 2017 was that the secondary market for old Minichamps, Spark, Quartzo, Red Line, etc. F1 diecasts was flooded and 2017 prices were generally low compared to previous years – some of this is combination of new production re-releases, new model suppliers and also the drop in F1 audience itself.
You can always expect current season 1:43 Minichamps cars to hold value and in recent seasons the retail of price of new Minichamps are on average USD$100. The values of older cars from 1990's and 2000's and even the previously rarer ones are definitely lower – although the World Championship cars, Senna and rarer Schumacher cars are still sought after. Of the 1:43 scale to keep an eye on is the Alonso McLaren Honda MCL32 – these seem to be snapped up and I expect them to retain value. It goes without saying that Max Verstappen is single handedly supporting the 1:43 collectors' market.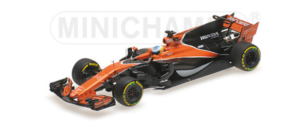 One surprise has been the resurgence of the 1:18 cars (probably due to the 1:43 market being flooded). The excellent Minichamps World champions 1:18 cars that were released around 2015 are now harder to source – so the Brabham BT49, Williams FW07B, William FW11B, Williams FW14B in 1:18 scale fetch good prices. Even the Andretti Lotus 79 which was once commanding US$500 before the new re-run batch are slowly recovering in price.
The Minichamps 1:18 scale Piquet Brabham BT49 and the Hunt McLaren M23 seem to be doing well and suggests that the 1:18 scale cars will slowly revert to their naturally higher values over their counterpart 1:43 diecasts.
I'm going to update the Latest Prices section with some of the notable 2017 ebay prices. Some interesting entries include:
Schumacher Ferrari F310 for EUR1499
Hakkinen McLaren Mp4/14 for CDN$1933
Moving into 2018, the Hamilton Mercedes AMG W08 looks like a beautiful model and Looksmart are scheduled to release some fancied old V12 racers…