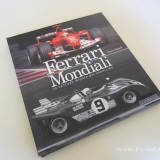 Book Review: Ferrari Mondiali by Enrico Mapelli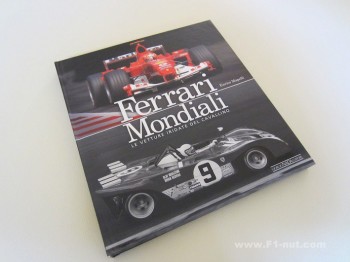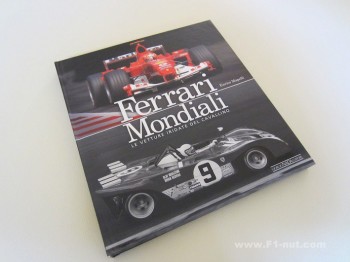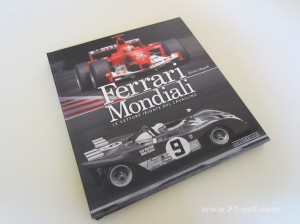 :
:
:
:
:
:
:
:
:
:
Author
:
Enrico Mapelli
Publisher
:
Giorgio Nada Editore
Positives
Great archival photos
Negatives
Unnecessary photos of other rival cars/teams?
Posted July 18, 2013 by
f1nut
Following on from the last review of Obrigado Ayrton, another book from the same publisher (Giorgio Nada Editore) on my bookshelf is Ferrari Mondiali by Enrico Mapelli. This is the Italian version published in 2009. An English version was later published in 2010 under the translated title, "Ferrari World Champions: The Cars that beat the world."
Ferrari Mondiali is a celebration of Ferrari's success in the Formula 1 and sports/GT car racing. This book is split into 2 halves – the first section charts Ferrari's world championships in F1 (from 1952-2008) and the second section, Ferrari's participation in sports car and GT (from 1953-1972).
Pino Allievi opens the book with a foreword which leads into Ferrari F1 history starting from 1952 with Ascari in the 500 F2, Fangio in the Ferrari Lancia D50, Peter Collins/Mike Hawthorn in the 246 F1, Phil Hill in the 156, Surtees in the 158, Lauda/Regazonni in the 312T & 312T2, Villeneuve in the 312T4, Villeneuve/Pironi in the 126C2, Tambay/Arnoux in the 126c3,  jumping to Irvine/Schumacher in the F399 and the most successful phase between 2000-2004 with Schumi and finally 2007-8 with Kimi Räikkönen. Its interesting that Berger, Alesi, Alboreto and several other Ferrari pilots don't feature. The book also includes a few double page driver profiles of Ascari, Lauda and Schumacher.
The Sportscar section includes the early 50s with Farina, Mille Miglia success with the '56 Ferrari 290MM driven by Castellotti and Fangio, the legendary Le Mans winnig 250 Testa Rossa, the curvaceous 330 P4 with Andretti, Regazzoni, Ickx, Peterson and Schenken.
There are also a few cutaway 3D drawings of the 500 F2, 250 GT , 250 GTO and the 330 P4.
All in all, a nice compilation of Ferrari race car history, although if you're only an F1 fan you might find the sportscar/GT/Prototype history of little interest.
Wow Factor or Money shot: I quite like the shots of Arnoux and Tambay in the 126 C3 which don't get as much coverage in most Ferrari F1 books.
Suitable for: Tifosi and 60-70's classic sports car fans.
Did you enjoy this review? You can add your own star rating of the book or DVD in the User Rating box above. Or you can add your thoughts or comments below for other readers. Make sure to also check out other similar reviews in the Related Reviews box below!