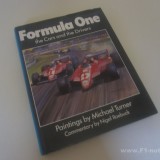 Book Review: Formula One the cars and drivers by Michael Turner and Nigel Roebuck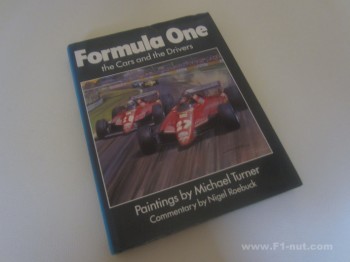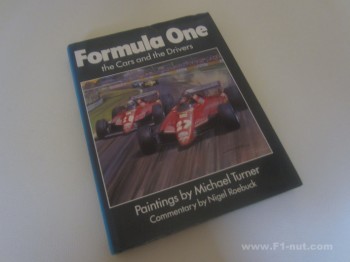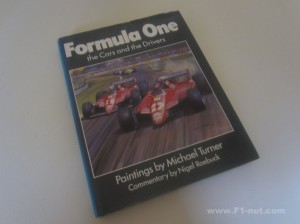 :
:
:
:
:
:
:
:
:
:
Author
:
Michael Turner, Nigel Roebuck
Publisher
:
Temple Press
Positives
Great color prints
Negatives
Would have been better to include personal comments from the artist for each work
Posted August 17, 2014 by
f1nut
Michael Turner is one of the more well known F1 artists. "Formula One the cars and drivers" is a collection of Turner's artworks that cover period F1 races from 1950 to 1982.
Although Nigel Roebuck is a great and knowledgeable author in his own right, I think the book actually suffers slightly from including his historial commentary of each race to supplement the artwork. The book simply becomes just another F1 history book but with Turner's art instead of B&W or color photos. It would have been much better if Michael had included more of his own perspective on each piece of artwork, more insight into his art technique, tools and his influences.
At almost 200 pages, this book contains artwork images for 85 selected grand prix – a big emphasis is on GPs in the 1950s and 1960s, so fans of Fangio, Lancia, Alfa Romeo, Maserati, Cooper and Moss will be happy. The actual GPs are a good selection of epic races including Moss at Monaco 1961, Surtees at Watkins Glen 1964, Stewart at Zandvoort 1968, Lauda at Jarama 1974, Peterson at Monza 1976, Villeneuve at Monaco 1981 and John Watson at Long Beach 1982.
If your primary interest is Turner's art, then the book includes both color prints and pencil sketches. Each selected race has 2-3 pages of Roebuck's commentary and Turner's drawings and paintings. Most of the print sizes range from half, 3/4 spreads to the occasional double page print. Some of the smaller reproductions make it a little tough to study the color and brushwork but a lot of the color and detail looks like its been reasonably well captured.
Despite some of my reservations above, I actually quite enjoy this book. Its a little different and good compilation of Michael Turner's art (especially if you can't afford the originals!).
Wow factor or money shot: Because there is very little color photo history of the 1950's racing,
Suitable for: F1 romantics of the 50's, 60's and 70's era.