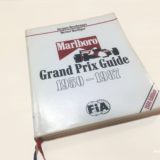 Book Review: Grand Prix Guide by Jacques Deschenaux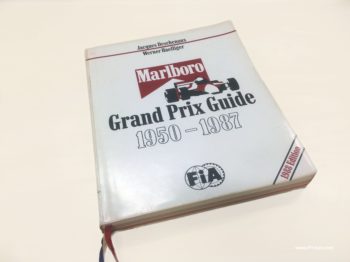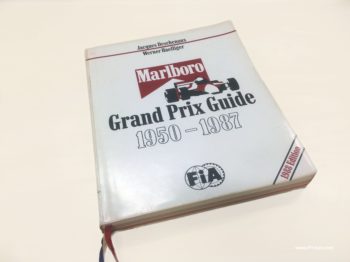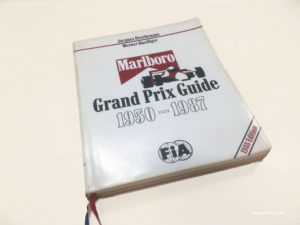 :
:
:
:
:
:
:
:
Author
:
Jacques Deschenaux
Publisher
:
Charles Stewart and Co
Positives
Lots & lots of stats
Posted June 1, 2017 by
f1nut
Retro reflection time. Before the easy availability for F1 fans to access online statistics, thick statistics books were the main go to resource. Think of large books like "The Complete Encyclopaedia of Formula One" and in more recent times, "The Grand Prix Data Book" by David Hayhoe.
A favourite publication in the 80's, was the Grand Prix Guide by Jacques Deschenaux. In the 80's this publication was sponsored by Marlboro with its iconic logo and McLaren MP4 silhouette. Officially supported by the FIA.
Pictured is the 1988 edition (which covered the 1987 season). Printed in English and French, it does look a little bland now by today's glossy standards. The book is essentially in 2 sections.
Part 1 is are table summaries (pole, winner, top 6, fastest lap, laps in the lead, # of accidents) for each of the 452 GP races from 1950-1987, career statistics of each driver from 1950-1987, constructors, engine manufacturers and general statistics.
Part 2 is basically a summary of the 1987 season championship, for each driver, team, engine/tyre supplier, chassis numbers, circuit, race results and some general cumulative statistics up to 1987.
The book also includes 3 ribbons for book marking (red, white & blue) for the patriotic French fans.
In moving with the times, Jacques Deschenaux now has an online version which you can check out at: www.gpguide.com. It's updated continuously and I highly recommend taking a look at the site — you'll find yourself spending a lot of time with it. Go to the statistics tab and you can drill down on various different views for some interesting F1 statistics. Although Schumi dominates a lot of the stats, you can see how Fangio, Senna and Prost still rank well and also how Hamilton's and Vettel's performances are slowly moving them into this illustrious group.
Fernando's run of 15 consecutive podiums back in 2005-2006 sure seems like a lifetime ago. It's a shame his McLaren Honda stint has so far damaged many of the statistics tables where he was previously ranking high up.
Wow Factor/Money Shot: No photos but plenty of raw stats if that's your thing.
Suitable for: F1 diehards