DVD Review: Grand Prix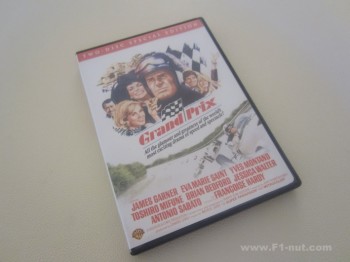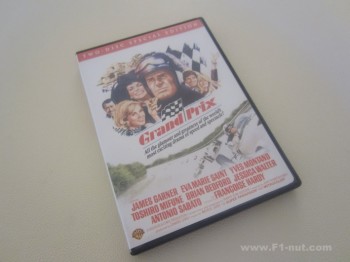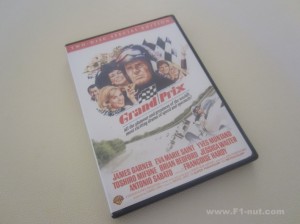 :
:
:
:
DVD Subject
:
Grand Prix
Positives
Oscar winning movie; Unreal track and racing cinematography
Negatives
If you want HD, get the Bluray
Posted July 22, 2014 by
f1nut
With the passing of actor James Garner over the weekend, it's hard not to recall the excellent and one of the best ever motor racing movies – John Frankenheimer's 1966 triple Oscar winning classic "Grand Prix".
If you want a plot summary of the movie, I won't spoil it here – check out IMDB. What you will see in the film are brief cameos by Graham Hill, Jack Brabham, Dan Guerney, Fangio, Jim Clark, Jochen Rindt, Ritchie Ginther and Phil Hill among other drivers of the time. You will also recognise some famous helmets in the movie – James Garner who played Pete Aron (and who actually drove in all his scenes) uses Chris Amon's helmet design and Brian Bedford uses Jackie Stewart's famous tartan helmet.
I have the 2 disc DVD version which also includes the following documentaries as part of the special features:
Pushing the Limit: The making of Grand Prix
Flat out: Formula One in the Sixties
The Style and Sound of Speed
Brands Hatch: Chasing the Chequered Flag
Grand Prix: Challenge of the Champions
Since the movie is close to 3hrs long, one slightly irritating bug bear is the movie is cut across 2 discs, so you need to change discs mid-way through the movie (just like in the good old laser disc days!).
Warner Brothers also released a HD DVD version of the film and a Blu-ray version. By all accounts, the HD re-cut of the film is supposed to be excellent viewing in 1080p. Time for an upgrade to Blu-ray I think!
Even if you are modern age F1 fan or despise melodrama movies, the in-car race cinematography of historic circuits like Zandvoort, Brands Hatch, Monaco and Monza in their 1960's layout and scenery will put a smile on your face. Although the Monza banking was last used for GPs in 1961, they still used it for the film. Most race buffs would consider this to be the #1 film which has best captured motor racing in its purest form – even more than Steve McQueen's silent classic – Le Mans.
So if you like the old 60's F1-era feel, this movie (along with Maurice Jarre's dreamy soundtrack) is a great watch with a bag of popcorn (or pizza)…