F1 Diecast News: Rare 1:43 sold on eBay and new Minichamps 2013 releases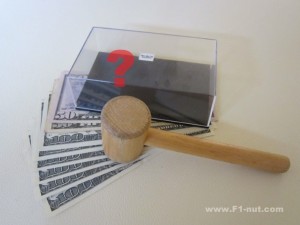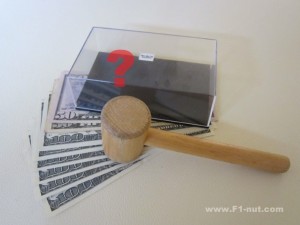 There was a recent sale last month on eBay of a 1:43 Minichamps model for an eye popping final price of €660! That's more than £500 or US$800! What was the model? A Schumacher Benetton Renault B195 No.17? No, it was a 1:43 Brundle Jordan Peugeot 196 from the '97 Australian GP with Qantas inlay (ebay item #171006650458). No, this is NOT an April Fool's post….According to the seller's listing, this was part of an unofficial production batch given to HP employees only during the 1997 Australian GP and the model has no bar-code on the rear of the inlay. The listing had a few bidders involved, so it does look legitimate. From my own research, I believe this model was a limited edition of 500 pieces.
Looking at the model in the eBay photo, I can't see any see major differences from the standard 1:43 Brundle Jordan Peugeot 196 in either the car shape or livery which can be picked up for around US$40+. It doesn't even have B&H tobacco decal markings. Of course, Martin Brundle's last F1 season was 1996 and Fisichella/Schumacher raced for Jordan in the 1997 Aust GP, so maybe that's why its a Minichamps aberration that some collectors think has rare value. Still, the prices that some collectors are willing to pay for a humble 1:43 scale diecast never ceases to amaze me…
Several years ago the late 90's Australian GP special edition 1:43 Minichamps releases  used to command high resale prices – these were the Schumacher/Irvine Ferrari F300, Hill/Villeneuve Williams FW18 and the Hakkinen/Coulthard McLaren MP4/11 which were usually priced at USD100+ on the collectors market. Although they were limited edition batches, I never understood why they fetched these prices – these models seem identical to the standard release models except for the Qantas cardboard inlay.
Exciting new Minichamps releases for 2013
I have been browsing Minichamps' list of scheduled 1:43 and 1:18 releases for this year and 2013 is shaping up as a BIG year for collectors who may have missed out on rare models in the past. According to the release list Minichamps is going to re-release many of the very hard to find World Champions Collection cars and 70's fans too are also going to be happy with the release of several variant Brabhams, Lotus' and McLarens.
As usual, there are no release dates given but these models are ones I will definitely be looking out for this year:
Brabham Ford BT44, Watson "John Goldie Racing" livery 1974 – 1:43
Brabham Ford BT44, Reutemann "Hitachi" livery, Belgian GP 1974 – 1:43
Brabham Alfa Romeo BT45B, Watson 1977 – 1:43 & 1:18
Brabham Alfa Romeo BT45C, Lauda/Watson 1978 – 1:43
Brabham Alfa Romeo BT46, Piquet, Canadian GP 1978 – 1:43
Honda RA106, Button, Winner Hungarian GP 2006 "Dirty Version" – 1:43
Lotus Ford 72, Fittipaldi, Italian GP, 1972 World Champion  – 1:43
McLaren Ford M23, Fittipaldi, 1974 World Champion with open engine – 1:43
McLaren Ford M23, Hunt, 1976 Word Champion with rain tyres and open engine – 1:43
McLaren Ford M25, Fittipaldi, 1975 – 1:43
McLaren Ford MP4-1C, Lauda/Watson, 1983 – 1:43
McLaren TAG MP4-2C, Prost, 1986 World Champion – 1:43
Mercedes AMG Petronas W03, Rosberg, 1st win Chinese GP 2012 – 1:43
Renault R25, Alonso, World Champion 2005 – 1:43
Renault R26, Alonso, World Champion 2006 – 1:43
Sauber Ferrari C31, Kobayashi, 3rd place Japanese GP 2012 – 1:43
Tyrrell Ford 003, Stewart, German GP, 1971 World Champion – 1:43
Tyrrell Ford 006, Stewart, 193 World Champion – 1:43
Williams Renault FW34, Maldonado, Winner Spanish GP 2012 – 1:43
Williams Ford FW07B, Jones with open engine, 1980 World Champion – 1:43
Williams Ford FW07C, Jones/Reutemann with open engine, 1981 – 1:43
Williams Renault FW14, Mansell, 1992 World Champion – 1:43
Williams Renault FW15C, Prost, 1993 World Champion – 1:43
Williams Renault FW18, Hill, 1996 World Champion – 1:43
Williams Renault FW19, Villeneuve, 1997 World Champion – 1:43
If the driver figures are the newer higher detailed ones (which I'm expecting), I might even replace the old versions…