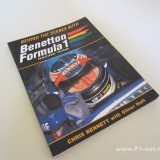 Book Review: Behind the Scenes with Benetton Formula 1 Racing Team by Chris Bennett with Oliver Holt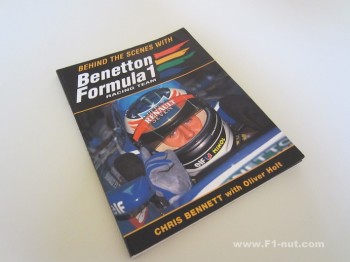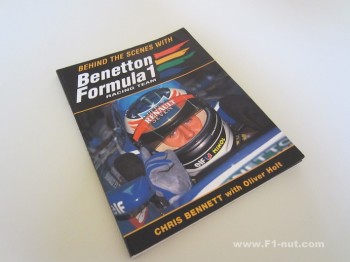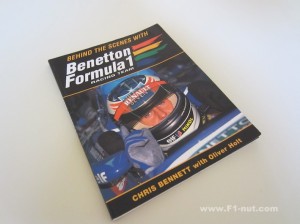 :
:
:
:
:
:
:
:
:
:
Author
:
Chris Bennett, Oliver Holt
Photographer
:
Chris Bennett
Publisher
:
Studio Editions
Positives
Great behind the scenes Benetton team & garage photos
Negatives
Who was Schumi's '95 teammate again? Johnny Herbert makes a cameo appearance in only 7 photos...
Posted June 1, 2013 by
f1nut
The other day, someone was asking me about good Benetton F1 books. For the newbie F1 fans, this year's Lotus team was previously Renault and before that was Benetton. Quite a few books on the Benetton team have been published, the best one by a long way is the Italian published 'Benetton Formula 1: A Story'  by Pino Allievi (I'm going to save that for review in a month or two). Another unassuming but surprisingly good title is Chris Bennett's "Behind the Scenes with Benetton Formula 1 Racing Team". Softcover titles often come with low expectations, but Chris Bennett's 1995 effort actually has some great behind the scenes and technical photography of then Benetton team.
There are 3 chapters, each containing several sub-chapters.  The first chapter is focuses mainly on the factory with design, manufacture, assembly , equipment, clothing and sponsorship. The second chapter covers testing, car setup and analysis. The final chapter cover the whole race weekend from practice, qualifying, fuel, pitstops and the race itself.
This is really a photobook and Chris Bennett has managed to include his own photographs of much of the Benetton factory and team. There is a good mix of racing and team personnel photos.
Its obvious Benetton was Michael's team, Johnny Herbert hardly rates a mention. Flavio gets the book's foreword honors and Ross Brawn is only seen in a few photos.
The funniest and most ironic chapter has to be "Scrutineering" and how cooperative the Benetton team have been. Given the question marks over the legality of the B194 and the B195, this chapter is definitely a little cheeky.
Overall this is book is typical of a lot of F1 team books written in the mid 90's.
Although it contains a lot of Benetton self serving spin, most of the content and the photos are very informative. This book can also double up as a useful photo reference for B195 modellers too.
Wow Factor or Money Shot: Cockpit photo of the B195 with steering wheel and dash on page 38.
Suitable for: Schumi and technical fans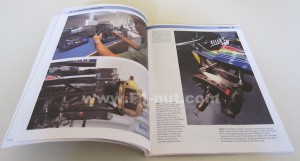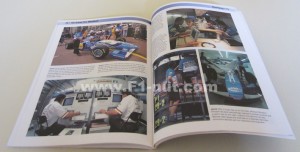 Did you enjoy this review? You can add your own star rating of the book or DVD in the User Rating box above. Or you can add your thoughts or comments below for other readers. Make sure to also check out other similar reviews in the Related Reviews box below!