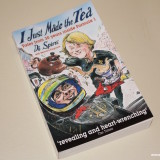 Book Review: I Just Made the Tea by Di Spires with Bernard Ferguson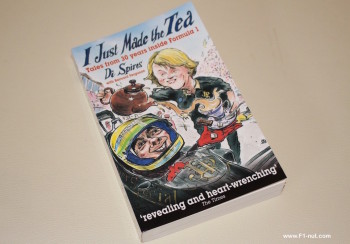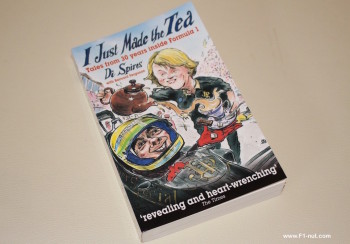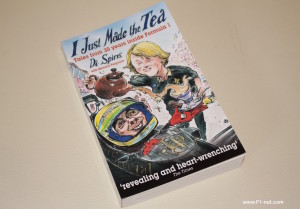 :
:
:
:
:
:
:
:
Author
:
Bernard Ferguson, Di Spires
Publisher
:
Haynes Publishing
Positives
Lots of interesting personal tidbits with many of big name F1 drivers
Posted November 28, 2015 by
f1nut
Most F1 books are written by ex-drivers or F1 journalists but a slightly different take on life in the F1 paddock is Di Spires' memoir book "I Just Made the Tea – Tales from 30 years inside Formula 1." Di Spires and her husband affectionately known as 'Mum' and 'Dad' in the F1 paddock, spent a large part of their career running catering and motorhomes for several F1 teams including Tolemann, Lotus, Benetton and their superstar drivers like Senna, Piquet, Mansell and Schumacher — her book published recently in 2012 provides lots of behind the scenes insights into F1 pit garages and motorhomes in the 80's and 90's era of Formula 1. Did you know about the Senna sandwich? Carlos Reutemann and pretzels? You'll need to read it to find out…
The book is largely chronological from the 1970's tracing the couple's start in hospitality in the early pioneer days of F1 with Team Surtees, Tyrrell, Tolemann through to the bigger teams of JPS Lotus, Benetton, Stewart Racing right through to motorsport suppliers Ford WRC rally team and Bridgestone. Along the way, the reader is given snippets of personal and funny stories of their dealings in the motorhomes with many big name drivers of the time, wives, team personnel and also an insight to the social circle of other operators helping to manage the hospitality and motorhomes of the other teams.
Much of the book covers their time at Benetton and is full of stories of the mad antics of Nelson Piquet and quirks of Flavio Briatore.
In between the regular chapters are chapters  dedicated to experiences with specific drivers – Elio de Angelis, Michael Schumacher, Johnny Herbert. Although as a fan of Elio de Angelis, I was a little disappointed that his chapter was so short. Di Spires also includes a long chapter with a major rundown of their favourite (and not so favourite) tracks on the F1 calendar and more sombre chapter recalling the race weekend at Imola 1994.
Photography is a selection of several colour photos from early motorhome days through to personal photos with many famous world champion drivers and team principals during race weekends. It is eye opening to study  the early photos of team motorhomes in the formative years of F1 compared to the massive slick  hospitality buildings that you now see used by teams in F1.
The pace of this book is reasonably quick, the authors don't spend endless pages or long chapters dwelling on any topic and it's also full of career highs and lows that will resonate with many readers. Although the later chapters of the book spends time on WRC rally, it's the early chapters that I most enjoyed reading.
At 370+pages this paperback will provide several sessions of enjoyable reading. It was nominated for sports book of the year in 2013 and was runner up in the motorsports category. Definitely, this is one for the Xmas book list if you're looking for a book with something a little different from the regular F1 book fare and with some light humour to boot.
Note: Special thanks to the author Di Spires for providing F1-nut.com with a review copy of the book.
Wow Factor/Money shot: The photos tracing the evolution of the F1 team motorhome.
Suitable for: 80's F1, Senna, Schumacher & Benneton fans