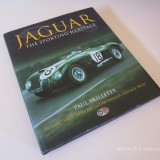 Book Review: Jaguar The Sporting Heritage by Paul Skilleter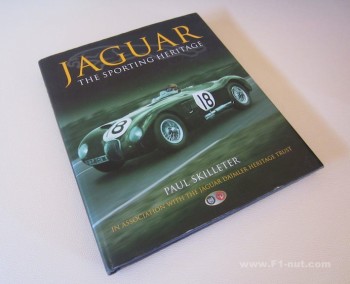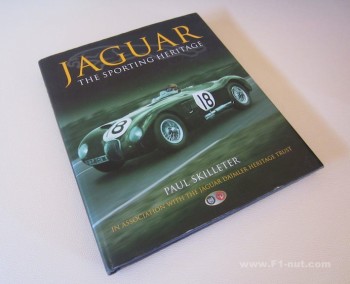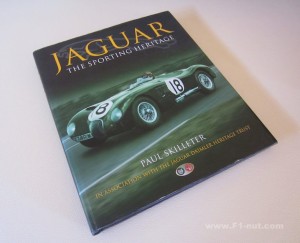 :
:
:
:
:
:
:
:
:
:
Author
:
Paul Skilleter
Photographer
:
Paul Skilleter
Publisher
:
Virgin Publishing
Positives
Photo and detailed commentary on all Jaguar race cars
Negatives
Published in 2000, so glosses over Jaguar's entry into F1. Only a few photos of the R1
Posted January 9, 2013 by
f1nut
Before the recent dominance of the Red Bull Racing team, you need to remember that Red Bull was re-incarnated from the sell-off of the Jaguar team and before that Stewart Racing (just like the Mercedes AMG F1 was Brawn, Honda, BAR and Tyrrell). Despite their lack of race results, like a lot of other fans, I always admired the Jaguar F1 cars for their design and livery. Due to their short term stay in F1, there aren't many books at all covering Jaguar's Formula 1 exploits. Paul Skilleter's "Jaguar – The Sporting Heritage" is probably the closest even though the F1 team is only covered in the final chapter.
Even if you put aside the fact that Jaguar F1 is only covered in a few pages in this book, the rest of the book which is dedicated to Jaguar's motorsport history is presented excellently by Skilleter. Several past Grand Prix drivers have driven for the British marque in other categories – many of these drivers are captured in the archival photos in the book including Nuvolari, Moss, Phil Hill, Hawthorn and Graham Hill.
Each chapter covers a major racing chassis during Jaguar's racing history from the 1930s early rally car models S.S.1 and SS 100, 1950s XK 120, Le Mans C-type, evolutionary D-type, E-type, the XJ-S touring car, XJR series GT sportscars and the 2000 season F1 cars. The book provides a technical summary and competition results of each Jaguar type.
One chapter is also dedicated to the 1950s constructor teams using the Jaguar engine: HWM-Jaguar, Cooper-Jaguar, Tojeiro-Jaguar and Lister-Jaguar.
Photography is plentiful with a very good mix of layouts. There are fantastic old archival photos from the early 1930s and 1950s many from the Jaguar Daimler Heritage Trust and from author himself.
Despite the fact that the book was published in 2000 (missing out on the 2001-2004 final seasons in F1), this is an excellent and almost complete book on Jaguar motorsport history. Its highly recommended for Jaguar aficionados but if you're only interested in F1 category racing, I would give this book a miss – 10 pages only on Jaguar's first season in F1 is not enough to warrant getting this book.
Wow Factor or the Money Shot: Fantastic race photos of the D-Type

Suitable for: Jaguar lovers