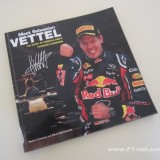 Book Review: Meet Sebastian Vettel by Andrea Cremonesi and Marco Degl'Innocenti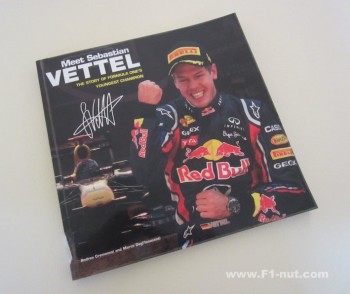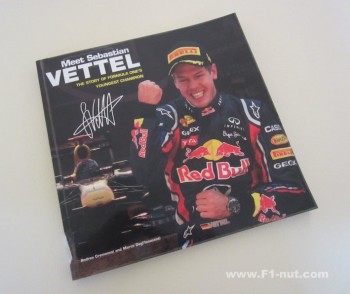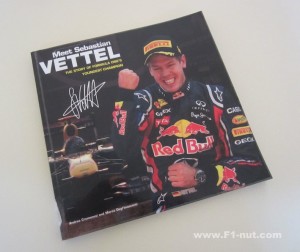 :
:
:
:
:
:
:
:
:
:
:
Author
:
Andrea Cremonesi, Marco Degl'Innocenti
Publisher
:
Souvenir Press
Positives
Interesting interviews with Sebastian
Negatives
Very light on detailed narration
Posted March 5, 2013 by
f1nut
Originally published in Italian and written by Italian journalists Andrea Cremonesi and Marco Degl'Innocenti – "Meet Sebastian Vettel" is one of the few published books on F1 world champion Sebastian Vettel. In fact, I recently posted that there seemed to be a dearth of books on the current crop of F1 champions. This book written in 2011 charts Sebastian's lightning F1 career success from his karting roots to his 2011 season winning back to back world championships. There are times however when reading this book full of praise and admiration for Sebastain that you can't help wonder whether it was actually commissioned by Red Bull. Also some of F1's big guns are onboard with  Niki Lauda and Bernie Ecclestone providing the open forewords for the book.
I wouldn't class myself as a Vettel fan, but I picked up this book to learn a bit more about Sebastian's early career and the book is successful in this aspect.
The book's chapters are a mixture of interviews and sections covering different parts of Sebastain's career. The opening chapter is an interview between Andrea Cremonesi and Vettel. Not strictly being a Vettel fan, there are a sprinkling of interesting personal information revealed – Vettel doesn't have a manager, is a Beatles fan and gives his chassis female nicknames – but I'm sure diehard Vettel fans already knew that.
I wouldn't class myself as a Vettel fan, but I picked up this book to learn a bit more about Sebastian early career and the book is successful in this aspect. Clearly anyone who can be triple crowned in back to back seasons cannot be without the talent, dedication and ruthlessness that are common traits of every world champion driver. The authors go back to Vettel's early years with his family supporting his German karting, one chapter explores Vettel's hobbies (collecting Beatles albums) and racing superstitions, another chapter deals with his racing with Formula BMW which make it apparent how early the involvement of Red Bull and BMW in his career has been. The book also includes Q&A interviews with Gerhard Noak (the early talent scout who discovered Schumi and Vettel), Giorgio Ascanelli (Toro Rosso technical director) and the driver himself.
One irritation with the book is that it tends to gloss over a lot of what I would consider key events in Sebastian's career to date – for example, his F1 race debut in 2007 for BMW Sauber at Indianapolis standing in for Robert Kubica, his first season with Toro Rosso, winning the tightly contested 2010 title in Abu Dhabi and romping home with the 2011 title. Having said that, it does dedicate one short chapter to his maiden breakthrough win with Toro Rosso in 2008.
The photo layout of the book is varied with lots of double page spreads and inset thumbnail shots – in some ways, the layout is quite similar to Mark Webber's book "Up Front". There seems to be a lot of Red Bull PR photography in the book too (surfing in Hawaii in Red Bull wetsuit, climbing Vesuvius with Red Bull beanie).
Although "Meet Sebastian Vettel" is nice and straightforward photo book, more serious or mature F1 readers will have to wait for a biography (or autobiography) with a little more substance. For Vettel fans, I suspect they can already find a lot of the book's information elsewhere such as F1 magazines and the Red Bull website.
Wow Factor or Money Shot: No photos particularly stand out but it is amazing seeing old photos of the pre-teen and teenage Vettel (with braces) posing with his idol Michael Schumacher.
Suitable for: Red Bull Racing and Vettel aficionados.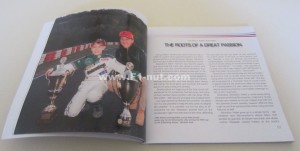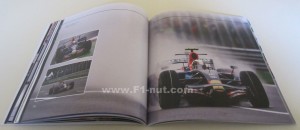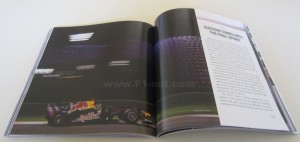 Did you enjoy this review? You can add your own star rating of the book or DVD in the User Rating box above. Or you can add your thoughts or comments below for other readers. Make sure to also check out other similar reviews in the Related Reviews box below!