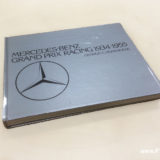 Book Review: Mercedes Benz Grand Prix Racing 1934-1955 by George C. Monkhouse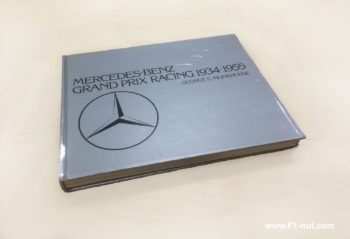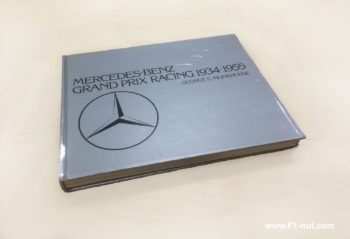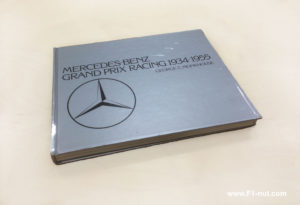 :
:
:
:
:
:
:
:
:
Author
:
George Monkhouse
Photographer
:
George Monkhouse
Posted February 4, 2017 by
f1nut
Will the Mercedes continue to be a cut above the rest in 2017? You only need to look back at the domination of the Silver Arrows during WWII and the 1950s to know that the German marque take their racing very seriously. Aside from the superlative Chris Nixon books, the other excellent title covering the Silver Arrows racers belonging to this era is photographer's George C Monkhouse's "Mercedes Benz Grand Prix Racing 1934-1955".
Although published in 1984, this heavy hardcover book is laid out in landscape and is entirely black & white. The book is divided up into 12 chapters with 2 sections at the back that include team race results over the period and technical data section with lots of closeup engine photos.
Opening with season 1934 and the W25's driven by Carraciola, Fagioli and von Brauchitsch traces the evolving competitiveness of the team. Among the great photos of the Silver Arrows are also superb race pictures of the Auto Unions, Maserati and Alfa Romeos.
The book's midsection chapters profiles each of the Mercedes drivers and there are chapters observing the team's
While Chris Nixon's "Racing the Silver Arrows" book has a lot more text researched narration, this book leans more towards photos but at the same time containing enough historical narration to give context to each chapter.
Monkhouse's photos (with Mercedes' support) are fantastically reproduced. While some older photos suffer from graining, the definition of many of the larger race images are excellent. Despite being in black & white, much of the race photos are wonderful to look at. There are also plenty of technical chassis photos to pour over. Monk house has also included several incident packed photos like von Brauchitsch's refuelling problem in 1938 German GP.
I think the 1934-39 parts of the book (photos) are more interesting than the Fangio/Moss 1950s era but that's just my own personal bias.
Monkhouse's book is a good visual treat, especially if you're looking for a book with basic coverage of these two Mercedes eras. As I mentioned, if you're looking for more hard core historic and technical information – Chris Nixon's books are a better source.
Wow Factor/Money shot: Great moments in history – Rosemeyer losing his Auto Union at Casino in Monaco (pg 31); banked North Curve of the Avus (pg 41); Dick Seaman's wrecked W125 at Pescara (pg 51); Nuvolari driving the Auto Union in Swiss GP (pg 116)
Suitable for: Mercedes and F1 history buffs.