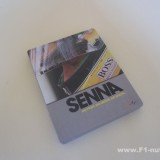 Blu-Ray Review: Senna Movie (Steelbook/VIVA Metal Collector's Edition)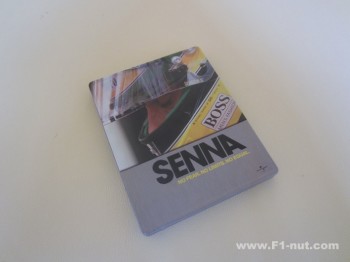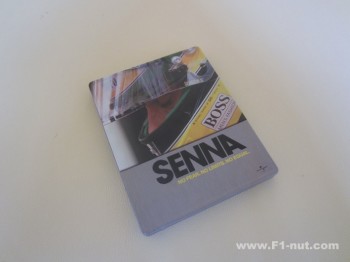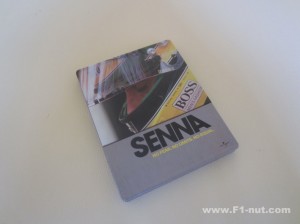 :
:
:
:
:
DVD Subject
:
Ayrton Senna
Positives
Extra Blu-Ray interviews
Posted February 28, 2014 by
f1nut
With the purchase of a Blu-Ray player, I can now finally dust off some Blu-Ray F1 titles sitting on my shelf that I haven't been able to watch. One of these is the Steelcover edition of the acclaimed 2010 movie, Senna. Having seen the DVD and theatrical version, I was keen to see whether the extra Blu-Ray features were worthwhile.
The Blu Ray version has the following additional content:
Extra 5 min of movie footage
Senna family videos
Ayrton Senna foundation promo video
1 hour+ of extended interviews with Alain Prost, Ron Dennis and F1 journalists
Its easy to see why Alain Prost was so irritated about the movie as the shortened version paints him like a political and sour grapes villain. The extended interviews gives a little more balance but it tends to come across like a slow rant. The body language in the Prost interview about the '89 Suzuka clash is actually very telling.
I understand there were a few different Blu-Ray configurations of Senna released, with a UK Limited Collector's Edition (with an £349.99 RRP) including a 1:12 scale Senna Lotus 97T for those lucky enough.
The VIVA metal cover edition has different photography from the standard DVD or Bluray edition. The cover photo is by Norio Koike, the back photo is a monochrome portrait shot by Patrick Behar and the inside cover double spread photo by Hiroshi Kaneko is Senna in the lead during the 1991 Brazilian GP. The VIVA Metal cover features embossed black Senna letters and also an embossed edges to the cover.
If you have a Blu Ray player, its worth having a copy of either the Bluray or Triple play version for the extra material. Nowadays you can pick up the Blu Ray version quite cheaply.
Although its a Blu Ray disc, because most of the movie is archival footage, don't expect High Definition style pictures – the value of the Blu Ray disc is for the extra content. I'll be interested to see how the new Rush movie and the latest F1 documentary "1 The Movie" look on Blu Ray.
Having said that, I think the original theatrical cut is better flowing version to watch. The extra Blu ray interviews, etc are interesting but  lots of talking heads against a bland white background seems a little out of place during the extended version of the film.