1:43 diecast review: Minichamps Williams FW08B 6 wheel test car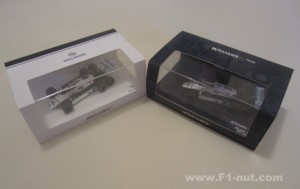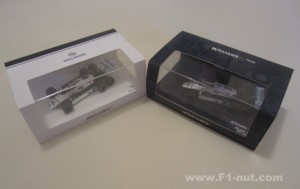 A new version of the Minichamps 1:43 scale Williams FW08B 6 wheeler is currently in circulation. Some collectors have probably seen the older model in the larger size display box which was reasonably rare. The big difference with the new model is that it includes the driver figure of Keke Rosberg.
I managed to actually find a (B&W) photo of Keke in the FW08B with the Williams pit crew in Peter Nygaard's  book "Williams 1969-1998 Photo Album" and based on that shot, the Minichamps model (new and old) appears to be a different version. The FW08B Keke tested had a front wing and the front profile had a straight slope to the nose; the Saudia and TAG livery was different. The Minichamps model looks like the FW08B version that is on display in the Williams F1 Conference Centre – not sure if Keke tested this one, so maybe someone can confirm?
The new model has a limited production of 1,982 units so its a good opportunity for new collectors to pick up a sure to be rare item.
Lets compare the new model vs the old one: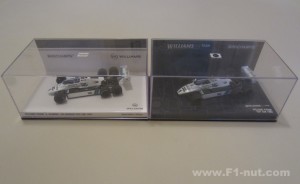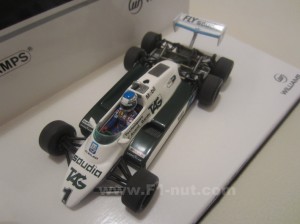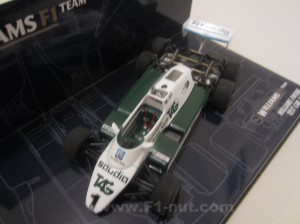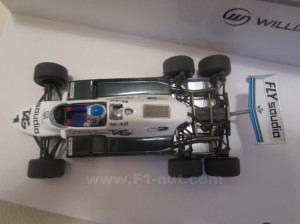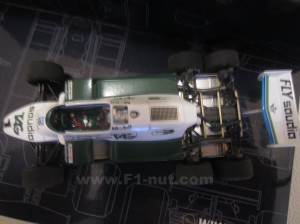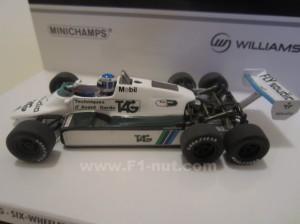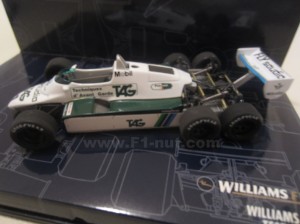 The verdict: If you can, get your hands on the new model. Looks a lot better with Keke in the cockpit…