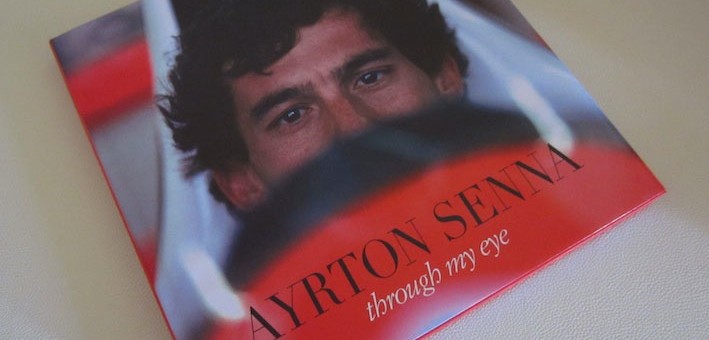 Book Review: Ayrton Senna – through my eye by Paul-Henri Cahier
:
:
:
:
:
:
:
:
:
:
Author
:
Paul-Henri Cahier
Photographer
:
Paul-Henri Cahier
Publisher
:
Autosports Marketing Associates
Positives
Great presentation and unique photos
Negatives
Nothing major but could have been better with more background info in the captions
Posted September 9, 2012 by
f1nut
Ayrton Senna through my eye by Paul-Henri Cahier is another very smart looking hardcover photo book album dedicated to the great Brazilian driver. Most people would have seen Paul-Henri Cahier's photography featured in many publications (including Autocourse) and, of course, he is also the son of one of F1's most famous F1 photographers, Bernard Cahier. Over the years there have been many excellent Senna books, so how does this one rate?
Cahier's book is divided in 3 sections: The first section are 105 selected color plate photos of Ayrton from the 1984 to 1994 season. These pages contain no text and are a mixture of portrait, racing and abstract photos. Some photos are wide double page prints. The middle section of the book contains thumbnails of each of the photo collection shots with a short caption. The final section of the book is 18 pages of Cahier's own words describing how he ended up following his father's profession and some of his views of Senna at various points of his career.
Many of Cahier's photos are shot from slightly different angles than you normally see in most F1 photos.
The production quality of this book is high – it's a heavy well bound hardcover book using heavy grade paper. A typically intense photo of Senna stare from his cockpit on the book's cover is typical of the photos inside.
Many of Cahier's photos are shot from slightly different angles than you normally see in most F1 photos. There are quite a few macro close up shots and many of the car photos (like cockpit and engines) are shot from a very low profile – quite different from Schlegelmilch or Sutton photos for example.
This book is a great addition to any Senna fan's collection. It is a photo album, so if you are looking to read lots of Senna biographic information, you aren't going to find much in this book. Unfortunately, like most Senna hardcover books, this one is now a little harder to find and booksellers' price tags are on the pricey side.
Wow Factor or the Money Shot: This book is about photography and almost all the photos are evocative and haunting. There are some famous photos here but there also some unique and rare photos in this book too – the shot of Senna's worn lucky racing gloves holding the McLaren MP4/4 steering wheel.
Suitable for: Mainly for Senna fans