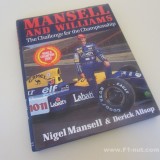 Book Review: Mansell and Williams by Nigel Mansell and Derick Allsop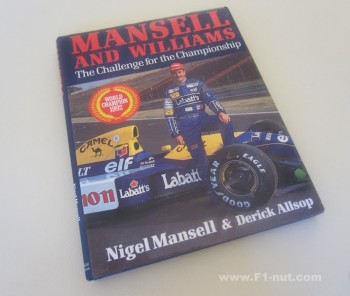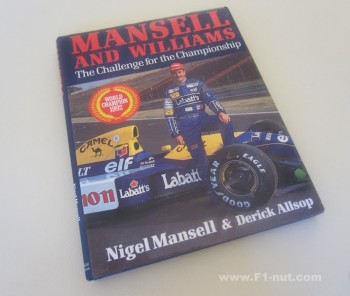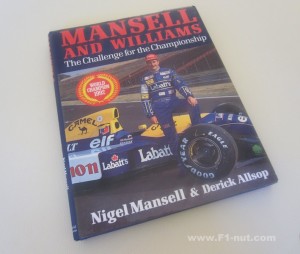 :
:
:
:
:
:
:
:
:
:
Author
:
Derick Allsop, Nigel Mansell
Photographer
:
John Townsend
Publisher
:
Weidenfield & Nicholson
Positives
Fantastic photography; ocassional racing insights from Nigel
Negatives
More FW11 and FW14 photos please!
Posted July 16, 2014 by
f1nut
During the British Grand Prix, it was good to see former champ Nigel Mansell as race steward letting Kimi, Fernando and Sebastian do their thing on the track without the stewards intervening and getting over zealous by dishing out penalties during the race. Just like Mansell, the local fans seemed to be able to give Lewis an extra 3/10's of speed.
Nigel had the most success with Williams and although this 1992 book "Mansell and Williams: The Challenge for the Championship" was published before he had secured the 1992 title, its a book full of great photography with the story written by the Nigel himself.
The book is loosely structured into the following chapters:
"The Man" (Nigel talking about his career and family)
"The Team" (Williams' team members, partners and the background to Nigel returning to the team for 1991, pre-season testing)
"Race Weekend" (Nigel's routine from arriving on Thursday at the circuit, preparations with his mechanics, Friday practice, Saturday qualifying, Sunday warmup and the race itself.
"The Races" (This is the longest chapter with Nigel giving his views on each of the circuits on the 1992 season calendar).
"The Opposition" (Nigel on Alan Jones, Keke Rosberg, Nelson Piquet, Alain Prost, Ayrton Senna, Gerhard Berger, Jean Alesi, Michael Schumacher).
The selection of John Townsend's photos in this book are excellent. There is a fantastic variety of shots from detailed closeup car angles to high aerial track shots.
This is a great book if you're a fan of the early 90s F1 (or the Williams FW14).
Wow factor or money shot: A peek inside Nigel's golf club room, trophy room (is that a whopping 1:8 scale FW11?); cockpit shot of the FW13B.
Suitable for: Nigel and early WilliamsF1 fans.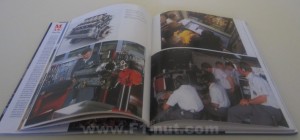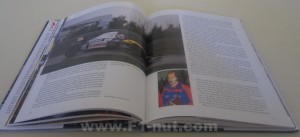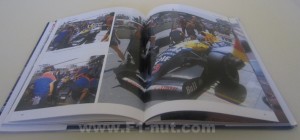 Did you enjoy this review? You can add your own star rating of the book or DVD in the User Rating box above. Or you can add your thoughts or comments below for other readers. Make sure to also check out other similar reviews in the Related Reviews box below!