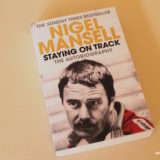 New Book Review: Staying on Track – the Autobiography by Nigel Mansell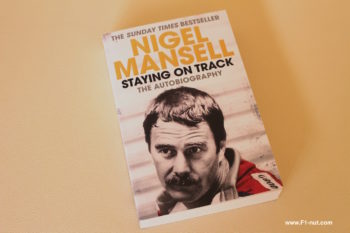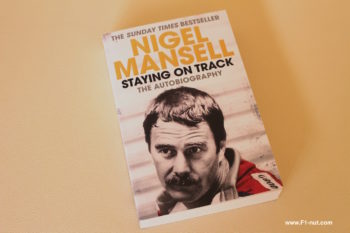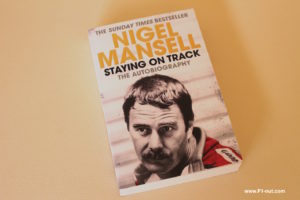 :
:
:
:
:
:
:
:
:
:
Author
:
Nigel Mansell
Photographer
:
John Townsend
Publisher
:
Simon and Schuster
Positives
Personal stories and insights into his Lotus days
Negatives
Nothing major; a bit more info Grand Prix Masters and views on current state of affairs of his old teams would have been nice
Posted December 24, 2016 by
f1nut
To me, F1 in the 90's was much more exciting due to the hard charging driving of Nigel Mansell. Like Lewis Hamilton, Nigel Mansell was a Silverstone crowd legend. Nigel's 2015 autobiography "Staying on Track" has been recently released in paperback version and it provides an interesting reflection on his post F1 career and thoughts on modern day F1 (from the vantage of being a F1 race steward).
There have been a number of Mansell books published, most notably Nigel's excellent 1995 autobiography "Nigel Mansell" co-written with James Allen (which admittedly I've been slow to post a review up on the site). That book documented much of Nigel's rise to success in F1 and Indycar up to his early season retirement from McLaren. What's different with this new autobiography written 20 years later? The first third of 'Staying on Track' covers a lot of the same ground in tracing Nigel's early karting, junior formula and progression through to Lotus, Williams, Ferrari, Williams & McLaren. It's the 2nd and 3rd parts of the book that provide new material for readers.
Compared to his earlier autobiography which probably more factual, this one seems include a bit of more Nigel's personal theories on driver psychology and private stories. In this book he provides some insights into the ability of a driver's brain to slow reaction time, dealing with the fear of injuries, ground effects, etc. Sprinkled throughout the book are also humorous stories of memorable moments with his wife, and Colin Chapman. Personal health issues are mentioned a lot in this new book from various driver ailments and injuries (back, bum & feet!) during his career to having to deal with family illnesses.
Part 2 is more of a conversational piece where Nigel's gives his personal views on various comparisons between F1 in the 90's vs modern day F1 in 2016. He expresses his views on issues from changes to cockpit design, safety regulations, number of teams, #1 v #2 teammates to his own assessment of the current crop of F1 drivers on the grid.
Part 3 covers Nigel's post 1995 retirement from playing golf, getting involved a golf course/hotel business at Woodbury, dealing with his wife's Rosanne's sudden illness, memories of his police career, Le Mans 2010, learning magic and cycling.
The book includes 3 sections of B&W and colour photos compiled from some of Nigel's own photos (particularly from his early racing career and family snaps) and more famous photos by John Townsend.
If you have Nigel's previous autobiography, "Staying On Track" still provides a lot of fresh material. His 1995 autobiography was 350 pages of his pre-1995 career highlights, which this book condenses into Part 1 over 220 pages long. Parts 2 & 3 are really the new personal opinions and insights. If you're a Nigel fan, this is well worth a read. If you don't already own Nigel's earlier autobiography, then this is good all round addition to any F1 history fan's bookshelf.
Wow Factor/Money Shot: Team Lotus stories

Suitable for: Nigel fans
Note: Review copy of this book kindly provided by Simon & Schuster UK