Q&A Interview – Di Spires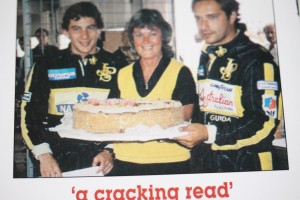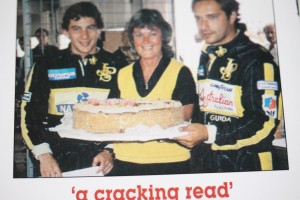 After the review of "I Just Made the Tea" featured in the previous post, F1-nut.com had the opportunity to pose a few quick questions to the book's author, Di Spires about some of her experiences with drivers like Ayrton Senna and Michael Schumacher. Here it is…
F1-nut.com: Even in the old photos in your book, the Team Lotus motorhome trailer in its famous black & gold JPS livery looked just as impressive as the race cars. Was there any temptation to use the motorhomes to race on the highway (or even the track?)
Di Spires: There was never the possibility to "race" the motor homes. The JPS American Motorhome was getting quite "tired" by the time we took over and suffered a few breakdowns during our time. Although it was quite prestigious to drive it around and was well recognised wherever we went, it was difficult at times to arrive at each circuit on time !!
F1-nut.com: Due to his enduring popularity, many readers will be curious for more information about the young Ayrton Senna. Besides the Senna Sandwich, was there anything in the young Ayrton's routine off the track in the Lotus motorhome that stood out?
Di Spires: Ayrton …in his early days of entering F1 was quite shy. He would try and keep out of the limelight off the track and preferred chatting to the team and eating at the Motorhome in the evenings rather than sponsor dinners etc .
F1-nut.com: Any strange catering requests you remember from a driver or team?
Alessandro Nannini loved what he called "English special toast bread".  This was fried bread served at breakfast time for the Benetton team.
Jean Pierre Jarier loved a small glass of red wine with his lunch an hour before a grand prix. Ken Tyrrell tried to ban him but JP said it was up to him, these were early days of course !!!
A rally driver Marko Martin (Estonian) loved 2 fried eggs to the point of being solid with 3 gherkins.
J J Lehto loved sweet things before a race i.e. pavlova.
Nigel Mansell had to have a good old English cuppa tea ….and digestive biscuit.
F1-nut.com: From your book, it's obvious you had close personal working relationships with several F1 world champions. Who is the most endearing and why?
Di Spires: Maybe as World Champs "endearing " may be wrong word. Nelson Piquet in his very different way was kind particularly to myself and Stuart. Giving me a gold engraved bracelet to thank me. Michael [Schumacher] was a real softy with regard to animals. Ayrton sometimes in his early days seemed " A little boy lost" on occasions due to his initial shyness.
F1-nut.com: Most favourite F1 memorabilia in your own collection?
Di Spires: Michael's driving gloves, signed as he took them off after winning his first World Championship in Adelaide .
F1-nut.com: Would you ever consider returning to the F1 hospitality business? If yes, which current team on the grid?
Di Spires: Unfortunately teams don't want "more mature" people anymore ..If we did we have a soft spot for Team Sauber …Most large teams have catering companies now not independents as we were. Times have changed as they do and whether we would enjoy it as much as we did, I doubt it very much. We certainly had " The Golden Years".