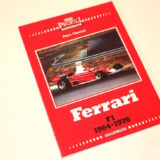 Book Review: Ferrari F1 1964-1976 by Piero Casucci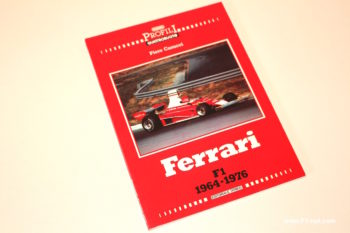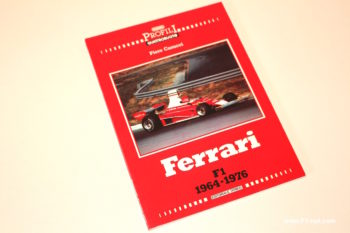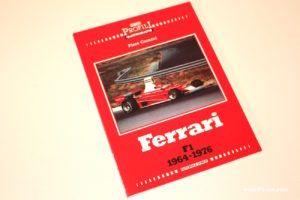 :
:
:
:
:
:
:
:
:
Author
:
Piero Casucci
Publisher
:
Editoriale Domus
Positives
Great compact Ferrari car profiles and archival photos
Posted January 18, 2017 by
f1nut
If the rumours are true, Ferrari are removing the white strips from their race livery  and going back to the full red coloured chassis for the 2017 season. The famous red and white Ferrari race cars that come to mind were the 312B2, F93A and the not too shabby championship winning 312T. I dusted off Piero Casucci's excellent "Ferrari F1 1964-1976" just to refresh my memory of the Ferrari GP cars from that era.
This book is the second in Casucci's 3 volume series on Ferrari GP cars published by Editoriale Domus. I posted a review of the first book: "Ferrari 1946-1963" back in 2015 (click here). This 2nd book follows the same format – 80 pages covering the following grand prix cars from the Scuderia:
158
512
312
312B
312B2
312B3
312T
312T3
What I love about this book series are the great layouts, fantastic cutaway drawings by Bruno Betti and the usual inclusion of rare archival photos of experimental chassis. You don't normally see so many of these types of photos in one Ferrari book these days.
At the rear section of the book are interview questions with Ferrari's famous engineer of that era Mauro Forghieri. His comments about pioneering the use of wing aerofoils on cars in the 60s is interesting reading.
This series was also published in a hardcover version (black cover) but you may be able to pickup copies of the softcover much cheaper online.
This book is an ideal read for a short sitting.
Wow Factor/Money shot: Photos of the 312B3 variants including the front winged snowplough (pg 44); square airbox (pg 47); 312T2 with front mudguards! (pg 64)
Suitable for: Tifosi and modellers.