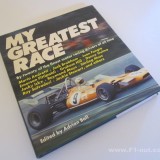 Book Review: My Greatest Race edited by Adrian Ball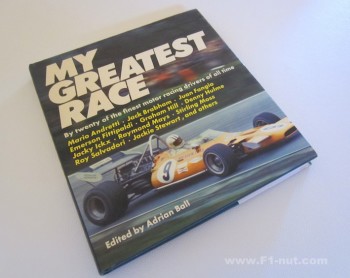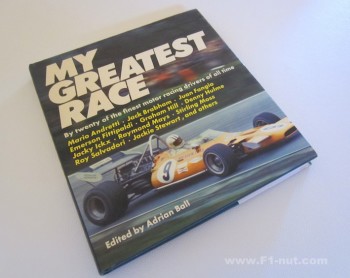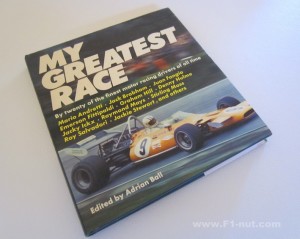 :
:
:
:
:
:
:
:
:
:
Author
:
Adrian Ball
Publisher
:
Hart-Davis MacGibbon
Positives
Best race memories from 20 great F1 drivers in their own words
Posted April 27, 2013 by
f1nut
Unless they have achieved rare status, many of the older pre-80s F1 books get overlooked or forgotten in old bookstores or collections. I've been re-reading a few from my own collection recently. Published in 1974 for the benefit of the Jim Clark Foundation, My Greatest Race is a collection of race memoirs from 20 famous motor racing drivers of the time. Some like Fangio, Brabham, Moss & Stewart are household names but few books cover the exploits or personal views of less popular pilots like Frere and Gonzales.
The premise of My Greatest Race  is to capture the personal favorite race from the career of each driver. Some  favorite races as re-told by drivers themselves are:
Fangio – 1953 Italian GP
Count Giovanni Lurani – 1933 Mille Miglia
Jack Brabham – 1959 Monaco GP
Phillipe Etancelin – 1930 French GP
Mario Andretti – 1969 Indy 500
Piero Taruffi – 1957 Mille Miglia
Baron Huschke von Hanstein – 1940 Mille Miglia
Jackie Stewart – 1968 German GP
Raymond Mays – 1936 Internal Trophy Brooklands
Froilan Gonzales – 1951 British GP
Innes Ireland – 1961 Solitude GP
Denny Hulme – 1972 South African GP
Paul Frere – 1956 Belgian GP
Olivier Gendebien – 1956 Mille Miglia
Graham Hill – 1965 Monaco GP
Baron de Graffenried – 1949 British GP
Jacky Ickx – 1969 Le Mans
Stirling Moss – 1955 Mille Miglia
Emerson Fittipaldi – 1973 Argentine GP
As you can see not all the drivers selected a grand prix as their favorite race, but rather the Mille Miglia and Le Mans being more memorable. Some of the text (e.g. Graham Hill's section) has been drawn from other books but generally My Greatest Race is a unique compilation of drivers and their favorite race memories.
The photography is grainy with each chapter containing a thumbnail driver portrait and some race photos. Naturally its the older photos from the pre-1950's racing that are worth looking over.
Wow Factor or Money Shot: A rare ensemble of champion drivers from yesteryear and their own interviews, makes this unique. Money shot? De Graffenried at 1949 British GP, Silverstone in the Maserati.
Suitable for: Fans of F1 history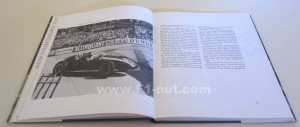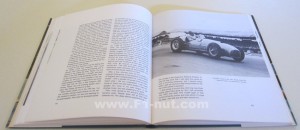 Did you enjoy this review? You can add your own star rating of the book or DVD in the User Rating box above. Or you can add your thoughts or comments below for other readers. Make sure to also check out other similar reviews in the Related Reviews box below!