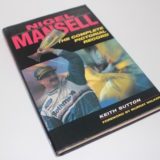 Book Review: Nigel Mansell – the complete pictorial record by Keith Sutton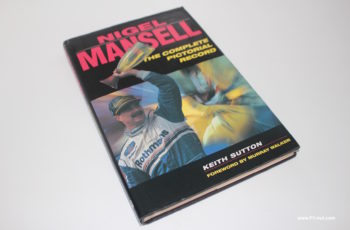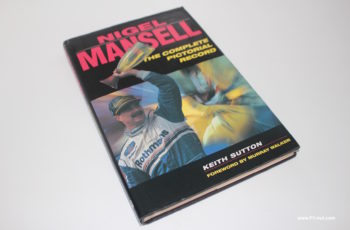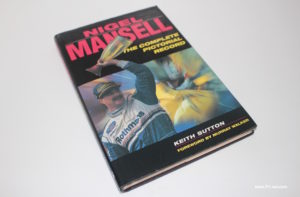 :
:
:
:
:
:
:
:
:
Author
:
Keith Sutton
Photographer
:
Keith Sutton
Publisher
:
Osprey
Positives
Fantastic selection of photos
Posted April 15, 2017 by
f1nut
With Fernando's relatively no brainer decision to contest this year's Indy 500 instead of taking on regular MCL32 duties in Monaco, the media couldn't help make comparison's with Nigel Mansell's successful foray to US oval racing in the 1993-94. Looking through Keith Sutton's photobook "Nigel Mansell – A Pictorial Record", I thought I had previously posted a review a few years ago but seems I've missed it.  I've done reviews of more recent Mansell books (see: the recent review of his autobiography "Staying on Track") but just like Sutton's "Ayrton Senna – A Personal Tribute", the excellent photo chronology is the main attraction of Sutton books even after all these years.
The structure of this title is pretty simple – there's a foreword by Murray Walker, an introduction by the author himself and photo chapters based on key periods of Nigel Mansell's career:
The Mansell family 1977-79
Success at last 1980-83
Williams and victory 1985-87
The man they called 'Il Leone' 1988-92
Indycar hero and F1 return 1993-95
Keith Sutton has managed to also include many "in the moment" photos of very pivotal events in Mansell's racing career like his tyre blowout in Adelaide 1986 and his Indycar testing crash at Phoenix.
Even for a book published back in 1995, many of the double page photos are excellent (e.g. Lotus 92). There are also plenty of great photos of all the iconic Mansell Lotus, Williams and Ferrari cars in race trim.
Wow Factor/Money shot: Looking at this year's beautiful Toro Rosso STR12, it evokes memories of the Essex liveried Lotus 81.
Suitable for: Aside from diehard Nigel fans – Lotus & Williams fans