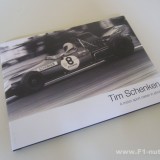 Book Review: Tim Schenken – A motorsport career in photos
Positives
Nice landscape format and binding
Negatives
Too few F1 photos
Bottom Line
Ok, now that's enough review posts on WilliamsF1 stuff for a while, so now for something completely different and random. A few collectors may have the odd model or book on an obscure F1 driver – Rebaque, Stuck, Jarier, Barber, etc. This limited edition tribute book to 70's F1 driver, Tim Schenken is a very […]
Posted February 15, 2014 by
f1nut
Ok, now that's enough review posts on WilliamsF1 stuff for a while, so now for something completely different and random. A few collectors may have the odd model or book on an obscure F1 driver – Rebaque, Stuck, Jarier, Barber, etc. This limited edition tribute book to 70's F1 driver, Tim Schenken is a very well presented book with a few interesting photos.
Tim Schenken drove for the Brabham and Surtees teams in the early 70's while in his senior post-F1 years moved into motorsports administration for the Australian V8 touring car category. This book was put together by the Australian motorsport foundation to mark Schenken's career achievements and the classy hardcover format is very respectful to the subject.
Although the book was intended as a celebration of Schenken's career, its a shame for more general F1 fans however that the F1 photography is a little too limited in this book. There are some B&W photos of Schenken in the 1971 Brabham BT33 but there really isn't too much else in the way of F1 photos. The rest of the book naturally includes photos from his early career and later years as an administrator.
The photos are predominantly B&W which is a shame, because color pics of the Brabham BT33 and Surtees TS9B would do better justice to both these cars and the driver.


Did you enjoy this review? You can add your own star rating of the book or DVD in the User Rating box above. Or you can add your thoughts or comments below for other readers. Make sure to also check out other similar reviews in the Related Reviews box below!