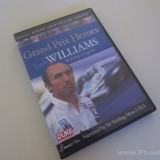 DVD review: Grand Prix Heroes – Frank Williams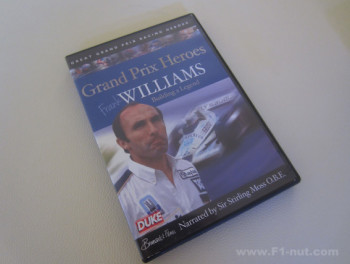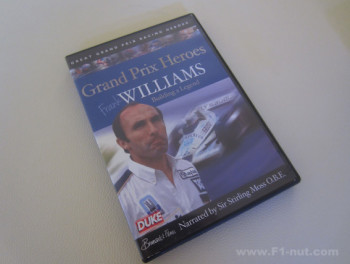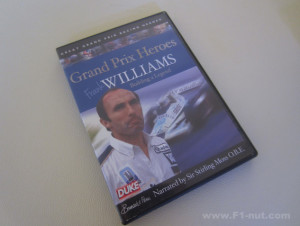 :
:
:
:
:
DVD Subject
:
Frank Williams
Posted April 24, 2015 by
f1nut
The Formula1.com site has a short celebratory video for Sir Frank Williams 73rd birthday last week. An excellent documentary on Sir Frank is part of the Duke's series of DVD Grand Prix Heroes. It's great viewing.
Like others in this series, the documentary is narrated by Sir Stirling Moss and with the benefit of some vintage race footage, traces the beginnings of Frank Williams career as a team boss with DeTomaso in 1970 all the way to [ ] amassing 9 World titles along the way.
The film contains key races during each season with old TV interview footage with Frank and also live archival trackside film of Frank in full team management mode (e.g. in the pits during 1973 Canadian GP and 1980 Dutch GP).
For new F1 fans, the early footage of the Courage and Schenken in DeTomaso, Pescarolo in the Politoys March FX3 and Ganley in the ISO-Rivolta-Marlboro. His sale to Walter Wolf in 1976 is a small mention in the film leading up to the formation of Williams Grand Prix Engineering with Patrick Head in 1977.
My favourite Williams livery is during this early era with Jones and Regazzoni with the white & green Saudia liveries. A large chunk of the film is spent on the 1980 maiden championship season – so there's plenty of great pitstop footage of Frank, Patrick Head, Alan Jones and the FW07B.
1981 is skipped and the rest of Williams' championship titles are largely glossed over – the 1982 title with Rosberg is about 15 seconds, 1986-87  is covered in 30 seconds as Nelson Piquet gets prepared to get into the car, 1992 only show Mansell on track for 10 seconds, 1993 has Prost nodding in pitlane, 1995 and 1996 has fleeting images of Damon and Jacques.
Perhaps the most moving film footage is of Sir Frank in his younger days jogging along the Monza circuit.
This is a great video for fans of 70's F1 history, not just WilliamsF1 fans.