F1 Diecast 1:43 review: TrueScale Models Peterson Tyrrell P34 1977 Belgian GP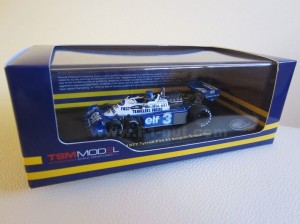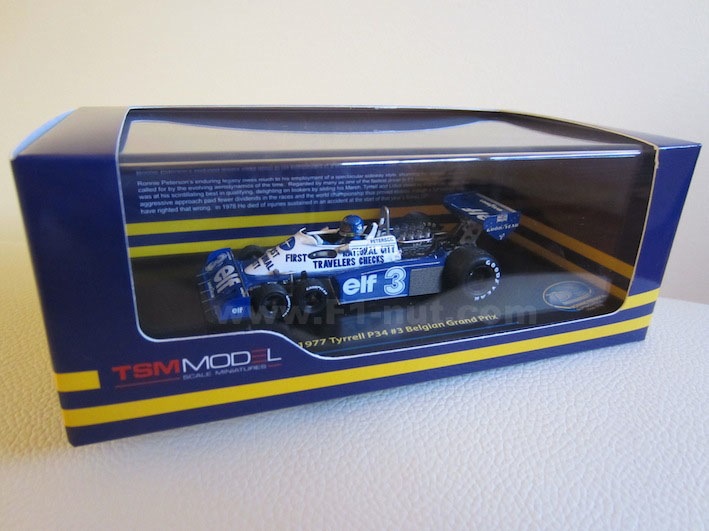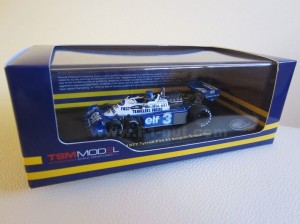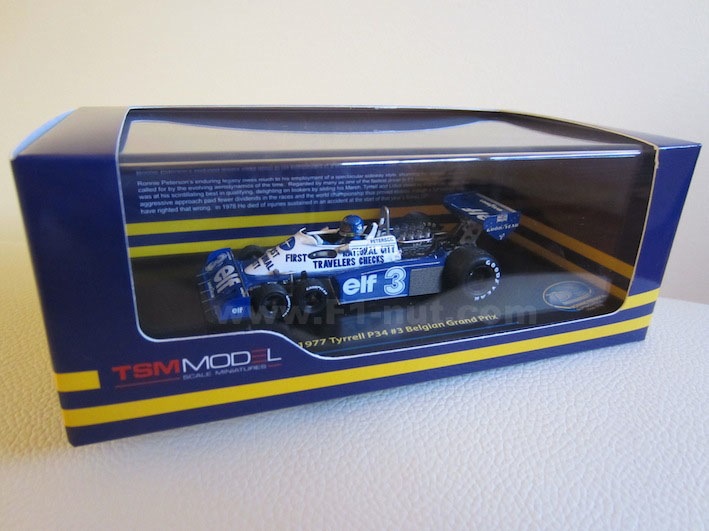 Time to take a closer look at a TrueScale Models (TSM) diecast. Truescale have managed to secure rights to produce the Tyrrell P34s and some of the Lotus GP cars in 1:43 scale. I hadn't paid much attention to TrueScale models but when I first saw the Truescale Ronnie Peterson 1977 P34 Belgian GP car in the shops – it looked impressively detailed enough to be worth adding one to my own collection.
Taking a closer look at at the TrueScale 1:43 Tyrrell P34, a few things are noticable:
TSM's display case is significantly larger than Quartzo or Minichamps. The TSM display case measures 15.5cm(L) x 8.5cm (D) x 6cm (H) compared to the traditional Minichamps 1:43 cases of  12cm x 7cm x 4cm.
TSM box packaging comes with perspex outer box, presentation box with window panel and an inlay with a short paragraph on Ronnie's career.
TSM box (mainly the wooden plinth) is much heavier than a Minichamps or Quartzo 1:43.
TSM driver figure detail is excellent (its comparable to a RedLine Model driver).
Metal parts, engine and rear detailing is of a high level.
TSM also produces the Peterson P34 1977 Brazilian GP variant with the famous Peterson yellow sunvisor helmeted driver figurine. Given the rising retail prices of newer Minichamps 1:43 cars and the resale price of the equivalent Minichamps 1977 FNCB Peterson P34 , the TSM diecast based on production quality is a serious if not better alternative.
After adding the TSM P34, I'm very tempted to take a look at the other TSM 1:43 including the Andretti set of Lotus 77, 78 and 79 cars too.
Unfortunately I don't have a Minichamps P34, but I've included some comparison pictures of the TSM against a Quartzo Scheckter P34 1:43 model (from what I've seen, the quality of the Minichamps P34's aren't that much better than a Quartzo other than the driver figure).
Did you enjoy this review? You can add your own star rating of the book or DVD in the User Rating box above. Or you can add your thoughts or comments below for other readers. Make sure to also check out other similar reviews in the Related Reviews box below!