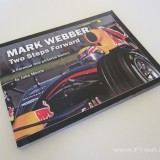 Book Review: Mark Webber – Two Steps Forward by John Morris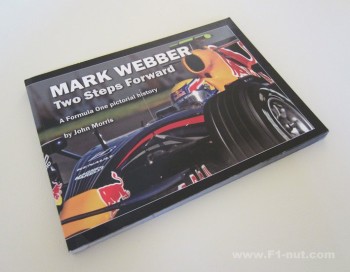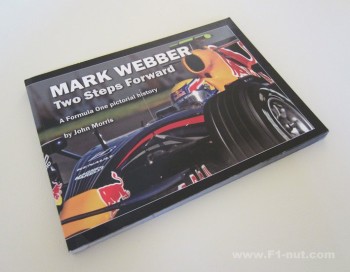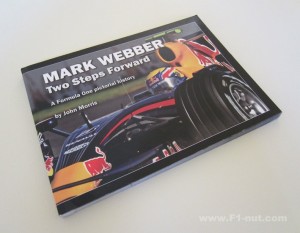 :
:
:
:
:
:
:
:
:
:
Author
:
John Morris
Photographer
:
John Morris
Publisher
:
Rennicks Publications
Positives
Lots of great double page wide angle photos
Negatives
No photos from racing in the junior categories
Posted March 26, 2013 by
f1nut
Well, Mark Webber is definitely the man of the moment. Now the oldest driver on the grid, I only know of 2 books published about Mark Webber – there is "Upfront – 2010 A season to remember" by Mark  himself (reviewed here) and  "Mark Webber – Two Steps Forward" by John Morris.  In the aftermath of the recent Malaysian Grand Prix, the title of  Morris' 2010 book seems to have a slightly ironic ring to it.
Australian photographer John Morris has followed Mark Webber's career and his book captures photos of Webber's racing in Australia in his Mercedes AMG sportscar, to his F1 debut with Minardi, through to his team switches to Jaguar, Williams and finally Red Bull.
The book contains a good varied selection of photography and there are lots of beautiful wide angle race shots
Morris has written chapters covering each F1 season from 2002 to 2010 and there is a special chapter on Mark Webber's photo shoot crossing the Sydney Harbour Bridge in 2005. Each chapter is around 8-9 pages long and the author provides some short text commentary about Webber's highs and lows during each season.
At the rear of the book, Morris has also included some brief coverage and racing photos of each of Webber's teammates during each season – Yoong, Pizzonia, Klien, Heidfeld, Rosberg, Coulthard and Vettel.
The book has a good varied selection of photographs and there are lots of beautiful wide angle race shots, although a few photos are slightly grainy due to enlargement. Most of the photography layout is in large panels with only a few smaller thumbnail shots and from what I can see, most of the photos have been taken during the Australian and Singapore Grand Prix.
Collectors should note that the book is bound in a non-standard landscape size, due to the photo layouts, so you will need a deep book shelf for this title.
As for Mark, hopefully he isn't planning on immediate retirement and he can hold off on writing another autobiography for another year or so. When he does write his memoirs, the Vettel Red Bull relationship will make interesting reading…
Wow Factor or Money Shot:  Photo panels of Mark Webber with his Williams FW27 on an empty Sydney Harbour Bridge
Suitable for: Strictly for Mark Webber fans




Did you enjoy this review? You can add your own star rating of the book or DVD in the User Rating box above. Or you can add your thoughts or comments below for other readers. Make sure to also check out other similar reviews in the Related Reviews box below!