Amalgam F1 diecast 1:8 scale McLaren MP4/4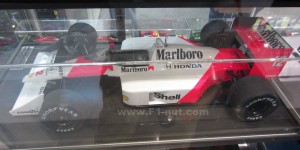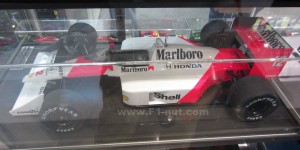 On a recent trip to Hong Kong I spotted a few interesting Amalgam and CMC F1 diecasts in the wild – the more interesting one was the Amalgam 1:8 scale Senna McLaren MP4/4. New Ace Hong Kong is a diecast model shop tucked away in a building a few blocks from the Wan Chai MTR station. Its obviously well frequented by local collectors as there was steady traffic. New Ace's website is www.newace.com.hk.
The Senna McLaren MP4/4 is on display in the shop window next to another Amalgam 1:8 scale Peterson Tyrrell P34. Both equally imposing models individually, it was slightly weird seeing them tucked besides other large 1:8 touring car diecasts in the front window. Normally, a 1:12 Amalgam Alonso Ferrari F2012 by itself would be an awesome sight, but it too was crowded out in the window display a few shelves above the MP4/4.
Once again like Rome, I was hopelessly under equipped on the photography front – it was really difficult to properly photograph through layers of glass and display casing. I really need to upgrade to a decent digital SLR.
Here are some pics anyway taken with a Canon iXUS.