Rare and hard to find Minichamps F1 diecasts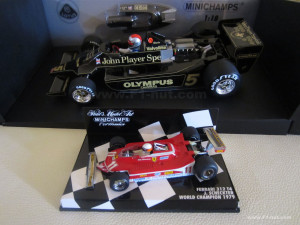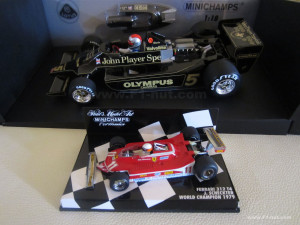 The good thing about F1 diecasts for collectors is that most model cars besides looking great in your cabinet or shelf, retain some value and if you're lucky some might even increase in value over time.
In the resale market for collectors, Minichamps is probably the most common and popular traded brand. As I mentioned in my beginner guide, sale and re-sale diecast prices start with Amalgam and some of the custom hand built Japanese kits at the top end, Exoto and CMC are in the US$200 to US$1000 range, BBR/Tameo/SRC etc are usually in the US$200-US$300, Minichamps range from US$30-US$250. However you can be lucky sometimes and pickup a bargain online or at clearance sales.
When I was an active collector of 1:43 F1 diecasts I used to keep a short watchlist of rare Minichamps models to look out for. Minichamps are convenient collectors models if you don't have the time, energy or money for hand-built models.
Seasoned collectors won't see anything new in this post but new collectors might find this information useful, so I've posted it here. These lists are not complete or up to date. On a rainy day with spare time, I might update them.
As a general rule, World Championship cars or cars driven by world champions earlier in their career that were manufactured with limited production runs are highly sought after. Also Minichamps 1:43 models have the most variations in box inlays which can also influence its value or resale price. For example, the limited edition Michelin high box diecasts and special GP editions like the Suzuka Legend or Fuji collections seem to command much higher re-sale prices. Proper tobacco liveries also fetch higher prices like the official West McLaren cars and the World Champions Collection series. If you're really lucky, driver signed models with a certificate of authenticity will make a rare model even more valuable.
Rare  1:8 and 1:12 F1 diecasts
Minichamps have in the past produced F1 models in the larger 1: 8 and 1:12 scale format in very limited production runs under the Pauls Model Art branding. Unsurprisingly, the 1:8 models are usually offered for sale well over the US$1000 mark.
Lauda Ferrari 312T (1:8 scale)
Hakkinen McLaren MP4/13 (1:8 scale)
Schumacher Ferrari F310/1 (1:8 scale)
Schumacher Ferrari F310/2 (1:8 scale) LE 196 pcs
Schumacher Ferrari F310B (1:8 scale) LE 197 pcs
Schumacher Ferrari F300 (1:8 scale) LE 198 pcs
Senna Lotus Renault 97T (1:8 scale) LE 333 pcs
Benneton Ford B192 French GP (1:8 scale)
Benneton Ford B194 (1:8 scale)
Benneton Ford B195 (1:8 scale)
Schumacher/Irvine Ferrari 310/2 (1:12 scale)
Senna/Prost McLaren Honda Mp4/4 (1:12 scale)
Senna Lotus Renault 97T (1:12 scale)
Rare  1:18 F1 diecasts
The following Minichamps 1:18 models are out of production but you can sometime find them in model shops or online auction sites, consistently with a US$200+ price tag. Many of the 1970s cars have removable cowling with engine detailing which also adds to their appeal and price.
Andretti/Peterson Lotus 78
Button Brawn BGP001 Brazilian GP 2009
Fittipaldi McLaren M23
Lauda/Regazzoni Ferrari 312T
Hunt McLaren M23
Piquet/Patrese Brabham BT52
Schumacher Benetton B193
Schumacher Benetton B195
Schumacher Ferrari F310/2
Senna Collection – Toleman Hart TG184, Lotus 97T (Portugal GP), Lotus 98T, McLaren MP4/4 & MP4/6, Williams FW16 with Tobacco liveries
Vettel BMW Sauber F1.07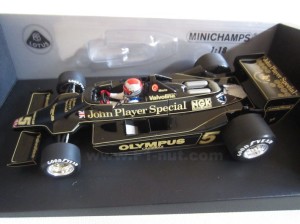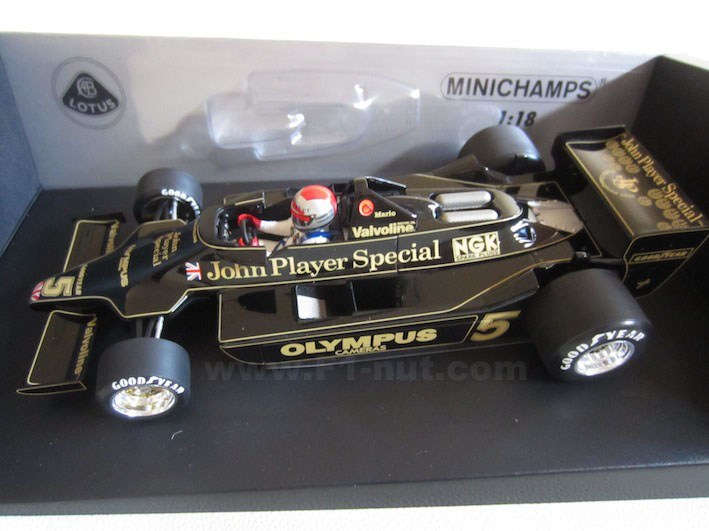 In the $US150+ range, some rare 1:18 cars are:
Alesi/Berger Ferrari F93A (end of Ferrari Minichamps licensing)
Yardley 1973 McLaren M23 – Sheckter, Hulme, Revson
Berger Benetton B186 (removable engine cowling)
Schumacher Benetton B192 Belgian GP (removable chassis panels)
Schumacher Benetton B195/Alesi taxi
Patrese Benetton B193
Prost McLaren MP4/4
Senna McLarens (non-championship cars or with non-tobacco decals)
Mansell Williams FW14B – Senna Taxi
Nakajima Lotus 99T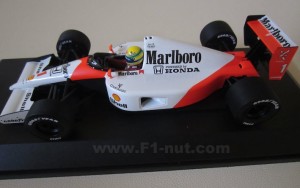 Rare  1:43 diecasts
I've put some US$ completed resale values here as a general guide only, you will find that these models can be a lot more (or less, if you're lucky!).
Super Rare 1:43 (range: US$500+)
Michael Schumacher Benetton Renault B195 – French GP 1995, No.17.  This model has long been considered the rarest F1 Minichamps car due to the history of Minichamps withdrawing it after a very limited 1,995 production run and then replacing it with the No.24 maybe because of a factory error. The No.17 has the double ridged airbox cowling instead of the normal sloping cowling of the actual B195/2 and the inlay should have the T2M French importer labeling and gold lettering on the edition numbering.
I've always considered Minichamps' multiple versions of the Schumacher B194 and B195 models in 1:43 scale to be low build quality (the driver figure is toyish and lacks detail for such an expensive model) compared with other Minichamps 1:43 series but it never ceases to amaze me what resale prices these are sold for by collectors and model shops. During the peak of Schumacher's career, the No.17 model was often traded for over USD500 (I think the record price was over £1000) – not sure what it would fetch now though.
The folks at www.f1marketplace.co.uk have been kind enough to let me include a photo of this rare Schumacher No.17  model which is on display for sale on their website.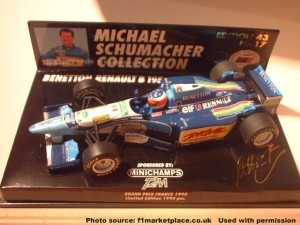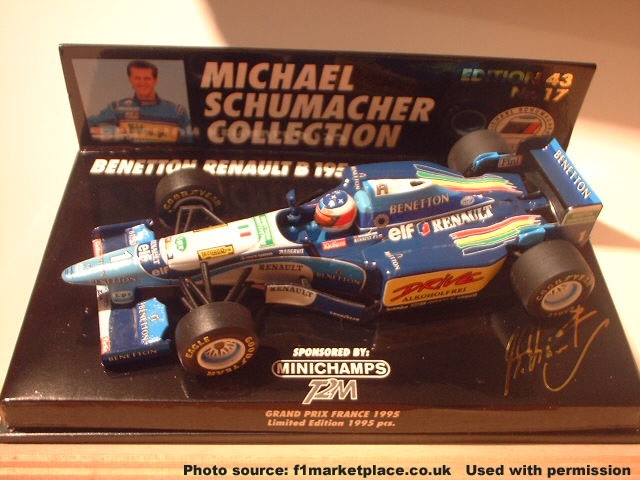 There is also even rarer limited edition (100 pcs) of the No.17 model with a marble base (which has sold for  £700-900+ range when on the market).
Here is a pic of the T2M marble base version of the Minichamps No.17 B195 model courtesy of David Halpin. You can check out David's ebay store here.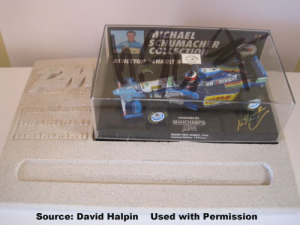 Very Rare 1:43 (range:$US150+)
There are a few very rare 1:43 Minichamps models that command consistently higher final re-sale prices closer to USD200 or more. These include the harder to find older world championship cars and the early career cars of Nigel Mansell's Lotus and Sebastian Vettel's BMW Sauber.
Stewart Tyrrell Ford 006 World Champion 1973
Fittipaldi McLaren M23 1974
Andretti Lotus 78 World Champion 1979
Brundle Jordan Peugeot 196 – (Qantas Aust GP 1997 – limited edition 500)
Jones Williams FW07B (removable chassis cover)
Vettel BMW Sauber F1.06 – Test Driver (Limited edition 1,296)
Vettel BMW Sauber F1.07 – USA GP 2007 (Limited Edition 1,800)
Mansell Lotus Ford 88 – Practice British GP 1981 (Limited edition 1,584)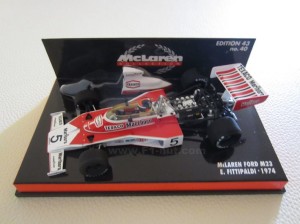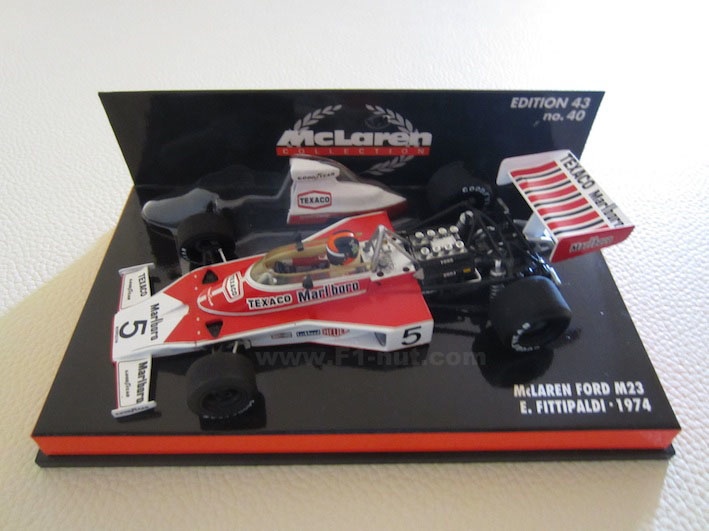 Hard to find 1:43 (range:US$80-US$120+)
The following cars would consistently be in the higher final price range close to US$100 or over.
World Champions Collection series cars or Michelin box cars
Older production run world championship cars ( Scheckter, Rosberg, Lauda, Prost, Senna) with the plain "jelly baby" driver figures.
Any Ayrton Senna Collection cars
Some Schumacher Collection cars
Alboreto Tyrrell Ford 012 – Practice Austria 1983 (Limited edition 2016; Angled rear wing)
Alesi – 1st GP victory 1995 (Schumacher Benetton B195 Taxi – Limited edition 11,695)
Alesi – Prost AP04 (Monaco GP 2001; 1st point (Limited edition 999 pcs)
Alonso Minardi European PS01
Alonso Minardi European PS01 – USA GP 2001 (limited edition 2,111)
Alonso Renault R23
Alonso Renault R28
Alonso Renault R28 – Fuji Speedway inlay – Winner Japan GP 2008
Barrichello Honda RA108 (Turkish GP 2008, 257th GP – limited edition 2,257)
Button Honda RA108 – 2008
Brambilla March Ford 751 – Austrian GP 1975
De Angelis Lotus 88 – Practice Long Beach (limited edition 2,016)
De Angelis Lotus 88 – Brazilian GP (limited edition 2,016)
De Angelis Lotus 97T
De Angelis Brabham BT55
Donohue McLaren Ford M19
Häkkinen McLaren Peugeot MP4-9 British GP 1994 (LE 1000)
Häkkinen McLaren Mercedes MP4-14 pitstop diorama 1999
Johnny Herbert Collection Benetton Ford B195 – 1st win British GP (ed 43, No.1)
Hulme McLaren Ford M19 – Monaco GP 1970
Jones Williams FW06
Jones Williams FW07 (removable chassis cover)
Lauda Brabham BT46 Fancar – Winner Swedish GP 1978
Mansell Williams FW14 – British GP 1991 (Senna Taxi)
Nakajima Lotus Honda 99T
Patrese Brabham BMW BT55 – 1986
Panis Ligier Mugen Honda JS41 –Monaco GP 1996 (limited edition 6,000)
Peterson Lotus 78
Peterson March Ford 761 1976 (Italian GP, Swedish GP, South African GP)
Peterson Tyrell FNCB – Monaco GP 1977
Piquet B&S Fabrications McLaren Ford M23 (Austria GP 1978, limited edition 1872)
Räikkönen Sauber Petronas C20 – 1st Championship point, Albert Park, 2001 (limited edition 1,512)
Räikkönen McLaren MP4/17D – Malaysian GP 2003 1st Win (limited edition 5,544)
Räikkönen McLaren MP4/20 – 1st Monaco GP win 2005  (limited edition 999)
Räikkönen Lotus E20 – British GP 2012 (Dark Knight Rises livery)
Rosberg Williams FW09 – US GP 1984 (limited edition 2,304)
Regazonni Williams FW07 (removable chassis cover)
Reutemann Williams FW07B (removable chassis cover)
Schumacher Jordan 191 – Belgium GP 1991
Schumacher Alesi Taxi – Canadian GP 1995 (limited edition 11,695)
Stuck March Ford 761 – German GP 1976 (limited edition 3,744)
Suzuka Legend cars – including Senna McLarens, Suzuki Lola Lamborghini 1990
Watson McLaren Ford MP4 – Winner British GP 1980
Webber KL Minardi Asiatech PS02 – 5th place Australian GP 2002
Webber Red Bull Racing Renault RB4 – 2008
Other notable rare 1:43 Minichamps include the experimental 6 wheel test cars:
Williams FW08B (note: early version had no driver figure -see photo)
Williams FW08B including Keke Rosberg driver figure (for photo review see my post on this here)
March Ford 2-4-0 6 Wheeler 1976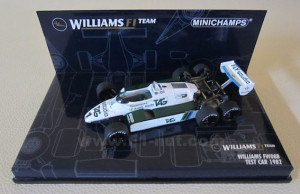 Notable 1:43 showcars
Minichamps have always produced 1:43 showcars early in the season to satisfy the appetite for collectors. Showcars are basically the previous year's car dressed up in the new season's livery and sponsor decals. Showcars are not actual cars that have raced and for this reason, they aren't as popular with re-sale values usually much lower than the model of the actual race car. Although I have noticed some exceptions and it is usually because of a showcar's limited production run being lower than the proper season car which also happens to be hard to find. These showcars are often in the US$80+ range:
Alonso Minardi PS01 showcar
Button Honda RA108 showcar
Webber Minardi PS02 showcar
Formula 1 World Champions Collection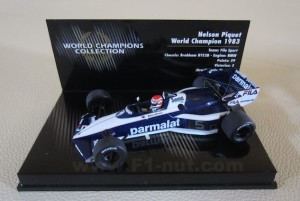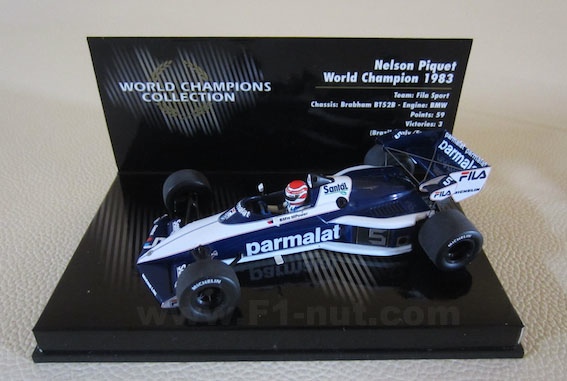 Models from Minichamps' Formula 1 World Champions Collection series are always in demand by collectors. These are slightly different from the standard Minichamps 1:43 releases as they come in highbox display cases with a cardboard inlay including statistics like chassis, points, # of victories and circuit wins. The driver figure is usually a superior fully formed figurine with proper decals and painted overalls (although not all of these models contain the detailed driver figure – Hill & Villeneuve). Some of the models were even produced with correct tobacco decals e.g. again the '96 Williams Renault FW18 and '97 Williams Renault FW19 with Rothmans decals and the Lotus 72 with Gold Leaf decals.
The models in this series that have been released are:
Lotus 72 Ford DFV  Jochen Rindt – 1970 World Champion
Williams Ford FW08 Keke Rosberg -1982 World Champion
Brabham BT52 Nelson Piquet – 1983 World Champion
McLaren TAG MP4/2 Niki Lauda – 1984 World Champion
Williams Renault FW11B Nelson Piquet – 1987 World Champion
McLaren Honda MP4/4 Ayrton Senna – 1988 World Champion
McLaren Honda MP4/5 Alain Prost – 1989 World Champion
Williams Renault FW18 Damon Hill – 1996 World Champion
Williams Renault FW19 Jacques Villeneuve – 1997 World Champion
McLaren Mercedes MP/13 Mika Hakkinen – 1998 World Champion
McLaren Mercedes MP4/23 Lewis Hamilton – 2008 World Champion
Most of these units were subject to limited production runs, although a few years back more pieces of Rosberg Williams FW08 and in recent times the Hill Williams FW18 and Villeneuve Williams FW19  briefly reappeared.
Minichamps have announced pre-orders for another production of release of the World Champions series later in 2013, so collectors who may have missed out on the earlier series will get a chance at filling out gaps in their collection.
Twin Car Sets
Minichamps also produce 1:43 scale twin car sets usually to celebrate a constructor's championship. In recent times, Minichamps have released twin car sets for Brawn GP 2009 Australian GP 1-2, Red Bull Racing RB6 2010 constructors champions and the Schumacher 20 years anniversary (Jordan 191 and Mercedes MGP W02) but its the early 90's twinsets that are usually sought after in the US$120+ range:
Lauda McLaren Mp4/2B and Prost McLaren MP4/2C (World Champion Set #1)
Senna McLaren MP4/4 and Prost McLaren Mp4/5 (World Champion Set #2)
Senna McLaren MP4/5B and Senna McLaren Mp4/6 (World Champion Set #3)
Mansell Williams FW14B and Prost Williams FW15C (World Champion Set #4 – Limited Edition 6099 pcs)
Remember: Like any resale market, prices change over time and will be affected by extra supply (e.g. re-release production runs by Minichamps; Spark and Truescale now make the Lotus 78s and Tyrrell P34s) and changes in demand. For example the old Martini Andretti and Reutemann Lotus 79s were very hard to find and expensive but after Minichamps recently re-released both models and the Mansell practice car, the prices have corrected to more sensible levels (also the new Minichamps release build and detailing is superior to the old models).  Schumacher cars were worth much more during the peak of his career but his mixed Mercedes comeback may have even pushed down values – although with his final retirement, they might rise again. Another good example is the Schumacher Jordan 191 – the original was the old jelly bean style driver model but its re-sale value was expensive because it was still rare. The 2012 anniversary high-box re-release by Minichamps is vastly superior, although I'm not sure what impact  this will have on resale values. Also, Minichamps have supposedly for some time been looking at a new production run of the World Champions Collection Series including the hard to find Stewart Tyrrell Ford 006, Jones Williams FW07B, etc. so we will have to hold our breath and see.
Since most collectors are attracted to cars driven by their favorite drivers, you can't go wrong with adding models that have historic importance. 1970s cars (which are also a personal favorite of mine) tend to keep good value and are sought after. Minichamps look like they are slowly releasing cars again for this period (e.g. Tyrell Ligier JS11s and Brabham BT44s) and their upgraded production quality makes these models worth looking at.
It would be interesting to hear from readers if any others should be added or their own collection experiences.
Make sure to also check on the site:
Like my other lists , I'll try to update these from time to time.
[This post last updated: 26 Dec 2014]
Did you enjoy this article? Your thoughts or comments are more than welcome using the comment box below. Or feel free to share the article with other people using the social media toolbar on the left.